We are in a dining room at a resort in Morgantown when an editor checks his phone.
"The death toll has risen."
The news resonates with journalists around the table.
It is the West Virginia Press Association Annual Awards Banquet, an event during which reporters, copy editors, photographers and more are honored for their best work.
But it doesn't preclude the news from happening.
On this evening, the banquet occurs on the heels of yet another mass shooting.
•••
I feel like I am supposed to have a solution. Everyone with a voice does, right?
I am supposed to lobby for gun control, or red flag warnings, or better awareness of mental health issues.
I am supposed to know what safeguards can be put into place to stop these horrific acts of violence.
But here's the thing. I don't know.
I hear ideas that have merit, but none that are foolproof against a crazed individual intent on taking human life.
•••
The awards ceremony honors excellence in journalism, and the Mountain State's southern counties represent well.
Award after award is presented for news coverage, investigative reporting, photography, design and sports.
It's a night to smile and be proud while accepting kudos from colleagues.
But amid the applause and rowdy "wahoos" the background of breaking news continues to drum.
Sadness tinges the celebration. But that's nothing new for those who choose this line of work.
•••
I am pouring a cup of bad hotel coffee when I flip on the TV and hear the latest report.
Another shooting, this time in Ohio.
Details are absorbed, and I step outside to drink my java on a concrete stoop.
I have reached violence overload.
I wonder what it would be like to go a day, a week, a month without hearing the words "death toll."
Looking up, I see white clouds surrounded by a sea of cerulean blue. The sky in Morgantown looks a lot like Bluefield.
I ponder the atmosphere in El Paso and Dayton.
Are tears of anguish raining down?
•••
Days later I am back in the office. At my feet is a sleeping ball of white-and-tan fluff.
Her name is Molly, and she is a current canine resident at the Mercer County Animal Shelter.
She is with us for an impromptu afternoon foster. The day out lifts her spirits as well as those in our newsroom.
At around 8 weeks of age, Molly is a perfect, enthusiastic, energetic, inquisitive puppy. However, those who look closely will note a healing scar at her shoulder.
Molly is recovering from a bullet wound.
"Who in the hell shoots a puppy?!" is the mantra of our day.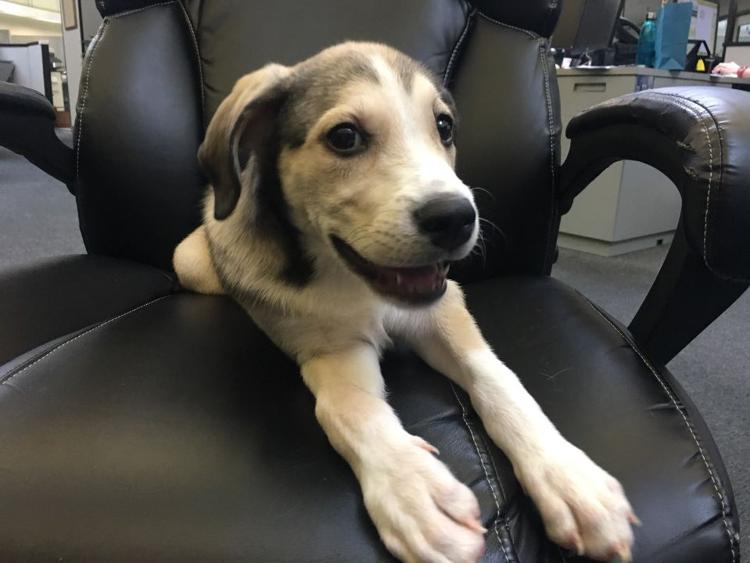 However the anger is tempered by plenty of hugs, cuddles and snuggles with Molly.
With tail wags and happy eyes, she tells us it's OK.
Bad things happen, but dogs move forward.
And so do people.
•••
I don't have an answer that will stop the violence. Yet I do believe our current climate of anger must be addressed.
A day after the shooting I tell a coworker that I am staying off social media.
"Twitter is toxic right now," I opine.
I am tired of finger-pointing and hate-filled words expressed in the wake of unimaginable tragedy.
Is grief sincere when it's immersed in presidential campaign rhetoric?
•••
Molly awakes, and immediately tries to climb on my lap. Picking her up, I am rewarded with puppy kisses across my nose and face.
Again, I wonder, "Who in the hell shoots a puppy?"
But I also ask, "Who in the hell randomly shoots people?"
When lives are devalued chaos ensues.
At what point will we change our social interactions? When will be begin picking people up instead of putting them down?
A kinder, gentler America may not stop the violence, but it could improve our climate.
I, for one, would rejoice in a week, a month — or a year — without tears.
Samantha Perry is editor of the Daily Telegraph. Contact her at sperry@bdtonline.com. Follow her @BDTPerry.