PRINCETON — Family members of a brutally beaten and murdered toddler sobbed in Mercer County Circuit Court Monday as his mother and her once live-in boyfriend were sentenced for their roles in the child's death.
Candice Jones, 32, and John Colan Powers, 47, both of Green Valley, were arrested in August 2018 following the death of Jones' 2-year-old son, Joseph "JoJo" Garbosky III.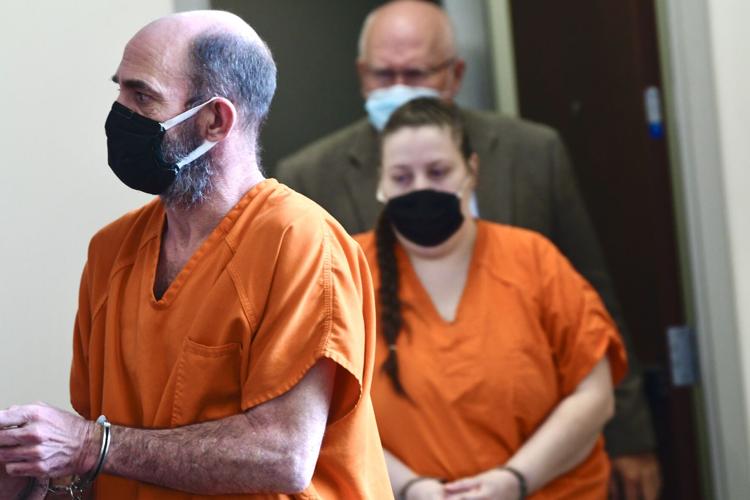 Powers reportedly body slammed the child into a bathtub, inflicted a third-degree burn on his arm and engaged in abuse that resulted in several broken bones, retinal hemorrhages, brain bleeds and subdural hematomas/blood clots. The child was not taken to the hospital for treatment until two weeks after the injuries occurred.
Jones watched as the abuse occurred, and did nothing to intervene, according to a criminal complaint filed by now-retired West Virginia State Police Sgt. M.D. Clemons, who was with the West Virginia State Police Crimes Against Children unit
In October of 2018, a Mercer County Grand Jury indicted Jones and Powers on charges including death of a child by parent or guardian by abuse, child neglect resulting in death, child neglect creating a substantial risk of bodily injury or death, child abuse resulting in injury and child abuse resulting in serious bodily injury.
Powers was also indicted on additional charges of second-degree murder and child abuse resulting in serious bodily injury.
Earlier this month, Powers entered into a best-interest plea in which he pleaded guilty to death of a child by parent or guardian, which carries a possible sentence of 15 years to life in prison. He also pleaded guilty to two counts of child abuse resulting in serious bodily injury. These charges have a possible sentence of two to 10 years in prison.
Jones pleaded guilty to child neglect resulting in death, which carries a sentence of three to 15 years in prison.
The two came before Judge Mark Wills Monday afternoon for sentencing on the plea deals.
•••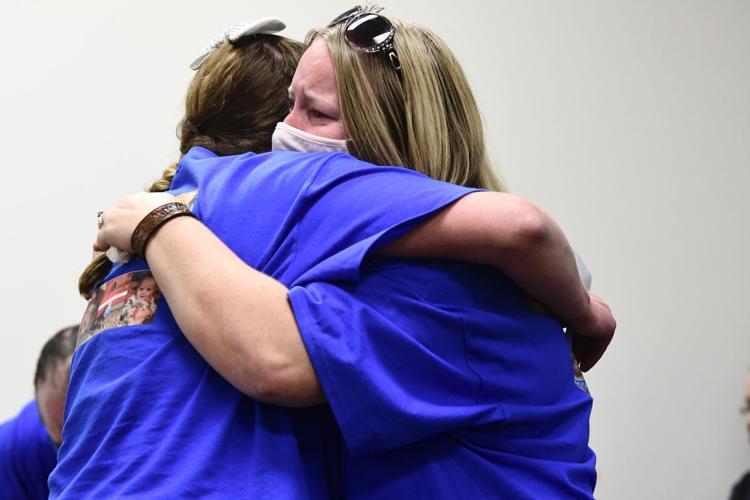 Angela Hart, the toddler's step-grandmother, addressed Candace Jones during the sentencing, telling her that a mother's job is to protect her children.
"I begged you to please stop trying to hook up with men on the internet and Facebook for sex," Hart said. "You were more worried about having sex than taking care of (your daughter) and Little Joe."
Although Candace Jones referred to her son as "Jojo," the child's family in North Carolina called him "Little Joe"
Hart said the family misses Little Joe's "beautiful smile and hearing his laughter."
"I hope you get the maximum time allowed for this and I hope some day you realize that Little Joe's death could have been prevented if you would have stopped worrying about having sex or getting with every guy you met online," Hart said.
Hart then addressed Powers, saying she had never personally met him but knew of his history of beating children.
Powers was indicted by a Raleigh County Grand Jury in October of 1995 for felony child abuse resulting in injury and felony child neglect.
A criminal complaint filed in October of 1995 by Beckley Police Department Detective J.S. Shumate cited significant injuries to the victim, who was also 2 years old.
"The child has burns and abrasions to the forehead, both hands, buttocks, back area and the top of his head," the criminal complaint states. "The child had bruising to the neck and chin area, chest area, penis area and various locations on his legs."
Prosecutors gave Powers a plea deal in the case, and he ultimately served 13 months behind bars for child neglect, the mother of the victim told the Daily Telegraph in a previous interview.
•••
Family members of Little Joe wept openly in the courtroom as Angela Hart addressed Powers about the severity of the child's injuries.
SLIDESHOW: Worst Nightmare: Mother. boyfriend sentenced in two-year-old's death
"We even had to have a hoodie over the top of his head at his service due to the beating you gave him," she said. "We have even seen pictures of the aftermath of you beating him so bad that he had bruises all over his body, head, neck, chest, butt, penis, legs and his big toe."
Hart then described how Little Joe loved firetrucks and dinosaurs, and had "big, beautiful, brown eyes."
"You deserve to die in prison," she said. "I really wish you would see the death penalty …"
Candace Jones 11-year-old daughter, watching the hearing with her family members, broke down into sobs and was led out of the courtroom.
Jones' father and stepmother now have guardianship of her daughter. Jones was pregnant with Powers' child at the time of her arrest, and her parents also have custody of this baby.
•••
Little Joe's grandfather, David Hart, then addressed the court, telling Powers he deserved more time behind bars than the sentence provided.
"I'm asking the court to give you the maximum the law will allow and then some," he said. "I can only wish the rest of your life and sentence is extremely miserable — way beyond what Little Joe suffered."
Turning to his daughter, David Hart said, "I love you with all my heart and soul. That will never change." But, he continued, "I've been spending lots of time trying to figure our how you got so cold-hearted."
David Hart asked Jones how she could stand by and let someone abuse her son. "You had to hear the screaming and crying and begging for help, yet you chose to do nothing."
Hart told his daughter she put her wants and desires over her kids, "and it cost Little Joe his life."
"Still today you haven't shown any kind of remorse," David Hart said, asking the court to impose the maximum sentence on his daughter. "Maybe in time, your conscience will catch up to you."
Joseph Garbosky Jr., the father of Little Joe, also asked the court to give Powers and Jones the maximum sentence.
During most of the hearing, the senior Garbosky kept his head down as he wept throughout the proceeding.
"Candace, how could you let something like this happen to our son?" he asked Jones as he testified. "What would make you stand by as a man murdered my son?"
Wanda Mann, Jones' older sister, also addressed the court and asked for the maximum sentence for the duo.
"I came before you today to let you know that if Candice gets any less than the maximum sentence, mark my words, she will be back on the internet finding someone that will have her and she will end up pregnant again and then the family will be back in court fighting for that child," Mann said.
Looking at her sister, Mann continued, "I'm here to tell you you're not a good mom, you are the worst of moms, you're a child's worst nightmare … To sit there while your child … was crying for help, and you did nothing. I hope this haunts you every time you close your eyes."
Speaking to Powers, Mann said describing him as "a monster" was not enough.
"You're a coward," Mann said.
The Rev. Margaret Stump, pastor of the family's church in North Carolina, asked why a child had to die in such "a senseless, brutal way."
The church now has a plaque over its nursery door in honor of Little Joe.
"Litte Joe is no longer able to sit on our laps at church," she said. "He is sitting on Jesus' lap and can never be hurt again."
Little Joe's 11-year-old sister did not testify, but did submit a letter and photographs to Judge Wills for consideration in the sentencing.
•••
Following the victim statements, Wills told the court he had "a heavy heart … not for the defendants, for this little boy."
Wills told Jones he could not understand how, as a mother, she could have allowed this to happen to her child.
"It literally makes me sick," Wills said.
Wills then sentenced Jones to three to 15 years in prison, the maximum time under her plea deal.
"I am going to make a recommendation to the Department of Corrections that you serve 15 years," Wills said. "If you get out you will have to register as a sex offender, and also have extended supervision for 50 years."
Wills told Jones he was going to recommend a life sentence for him to the Department of Corrections.
He said Jones, too, will have to register as a sex offender if he is released from prison.
Wills then concluded the hearing by saying to Jones and Powers, "The bailiff will now take you away so you can start serving your life sentence and your 15 years."
— Contact Samantha Perry at sperry@bdtonline.com