WELCH — A woman who pleaded guilty to killing her boyfriend with the aid of her father and sister, burying him, digging him up and dismembering his remains, and then reburying him was sentenced to the maximum punishment Thursday in McDowell County Circuit Court.
Amanda Michelle Naylor McClure, 31, of Chisago City, Minn., pleaded guilty in July to second-degree murder in the February 2019 death of John Thomas McGuire, 38, of Minnesota.
McGuire's remains were discovered Sept. 24, 2019, in a grave at a Skygusty residence in McDowell County.
Amanda McClure's father, Larry Paul McClure Sr., 55, of Pendleton, Ky., was sentenced to life without mercy for the crime in August. Her sister, Anna Marie Choudhary, 32, of Boone, N.C., is also facing first-degree murder charges in connection with McGuire's death.
Amanda McClure came before Judge Ed Kornish Thursday morning for sentencing via a Skype conference call with all parties involved.
Kornish began the hearing by apologizing to the mother of the victim, Karen Smith, who joined the call from her home in Alabama.
"I'm sorry you have to go through this again," Kornish said.
Smith said she was there to speak on behalf of her son and grandchildren.
Testimony in the virtual hearing started with Amanda McClure asking the court for mercy and apologizing to McGuire's family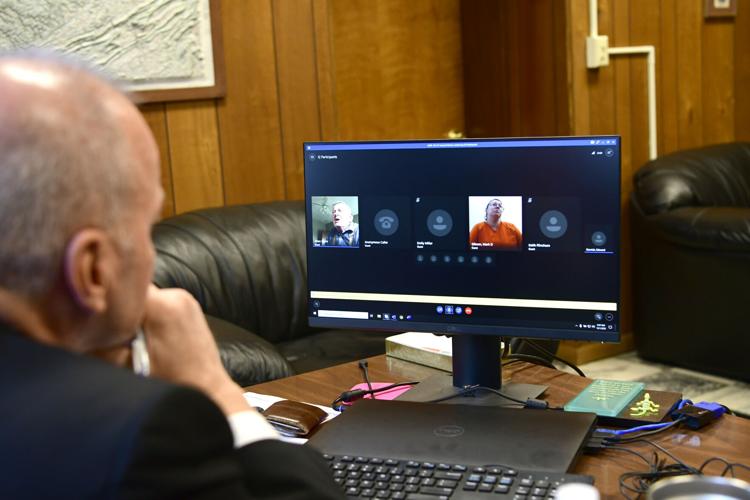 "I have to look at myself every day," she said. "My family didn't raise me to be this way. I've not only hurt John's (McGuire) family, I've hurt my own family."
Although Amanda McClure is the biological daughter of John McClure, she was raised by adoptive parents Allen and Gwen Holm, who were also on the Skype call.
"I want to apologize on our behalf," Allen Holm said during the hearing. "I can't imagine what she (Smith) is going through."
Holm then asked the court to consider the influence Larry McClure had on Amanda, and possibly re-evaluate her sentence "in a couple of years."
"The influence Larry had on her was a huge impact," he said.
"I just hurt," Gwen Holm said. "I hurt for his (McGuire's) mom and grandkids."
•••
According to previous court testimony, prior to the McGuire's murder Larry McClure was estranged from his daughters — Anna who lived in North Carolina and Amanda who lived with John McGuire in Indiana. All were involved in drugs.
In the days before the murder, Larry McClure drove to Indiana with Anna to pick up Amanda and John McGuire who were "dope sick," Judge Kornish said during Larry McClure's sentencing hearing.
The group then traveled back to Skygusty where Larry McClure was staying after his release from prison on sex offense charges.
While all was well for a week to 10 days, a plot was then hatched by the father and daughters to murder McGuire, according to previous court testimony.
During his sentencing hearing, Larry McClure testified that John McGuire bought a bottle of wine for Valentine's Day. He then said that McGuire was struck in the head with the wine bottle, tied up, injected with liquid methamphetamine and later strangled.
"A black garbage bag was wrapped around his head by Amanda," Larry McClure said. "Anna strangled him … I held him."
McClure said the torture began on Thursday, Feb. 14, and lasted through Saturday.
"It was two to three days of hell," Larry McClure said. "Later that morning we buried him in a two-foot grave behind the house."
"How much time before you dug him up?" Kornish asked the defendant.
"About six days," McGuire responded.
Court documents obtained by the Daily Telegraph in November 2019 revealed an incestuous relationship between Larry McClure and his daughter Amanda.
A criminal complaint filed by West Virginia State Police Trooper K.M. Saddler revealed that Larry and Amanda McClure had sexual intercourse at the Skygusty residence.
Three and a half weeks after the murder of McGuire, Larry and Amanda McClure traveled across the state line to neighboring Tazewell County, Va., where they married.
•••
Speaking during Thursday's hearing, Smith said she was sorry this happened to her family and Amanda McClure's adoptive mother and father.
"I just really want to know why she thought she could be God and take my kid," Smith said. 'She broke my heart and my grandkids' hearts. They cry every night for their daddy."
Smith said she knew Amanda McClure took her son's checks after he died, but she again questioned why the murder occurred.
"I hope that she has a good heart and gets straight with the Lord before she passes," Smith said. "She and her sister and her daddy are going straight to hell. I'm going to heaven."
Smith said her grandchildren are terrified Amanda McClure will one day get out of prison and come after them.
"I can't forgive her right now," Smith said. "Maybe later, but I can't forgive her right now."
Kornish then addressed Smith. "Even if she were to tell you why, it won't ease your pain," he said.
Amanda McClure then interjected on the call.
"Mrs. Smith, the only answer I can give you as to why things happened is John was with me," she said. "My dad didn't want anyone else near me …
"John (McGuire) told Larry that he loved me and we were going to get married," Amanda McClure said. "I wish I could bring John back. He was a good man."
During testimony, Amanda McClure alluded to control her father had over her, which brought her to McDowell County.
"I still don't know where Skygusty is," she said.
•••
As he prepared to announce a sentence, Kornish said, "This was a heinous crime that lasted for two days."
After reiterating the details of the murder, Kornish noted the three family members were able to tie up McGuire by telling him it was "a trust game."
Kornish said, in his opinion, "had this went to trial you would have been convicted of first-degree murder. You've gotten a very favorable plea deal from the state."
Kornish also pointed out Amanda McClure's "extensive criminal history," which was 32-pages long and included mostly drug-related crimes.
"There was no good reason for John (McGuire) to have been killed," Kornish said.
Kornish said he was aware of a history of abuse to Amanda McClure by Larry McClure, but noted that "was no excuse for taking John's life."
"I don't think you're taking full responsibility for killing John — you're blaming it on your father (Larry McClure)," Kornish said. "After killing John, you dug him up later. When you all dug him up his body was dismembered and stakes of some kind were driven through his body … Then you reburied him … there was no reason for this."
Addressing Amanda McClure directly, Kornish said, "You said you couldn't contact authorities. I don't believe that."
A second-degree murder charge carries a penalty of 10 to 40 years in prison.
"I am going to make it 40 years, which is the maximum sentence I can impose," Kornish said. "You will serve 20 years. I hope and pray you will learn and change, and when you do get out will be a different person."
Kornish then spoke to McGuire's family and Amanda McClure's parents, expressing his sorrow at the pain that they have endured.
"We can't unring that bell … Karen is not going to get her son back," Kornish said, before addressing his final words to Amanda McClure. "The time you will serve is not an adequate amount of time for the pain you have caused."
— Contact Samantha Perry at sperry@bdtonline.com