BLUEFIELD – Part of downtown Bluefield was evacuated and closed off Wednesday morning after smoke and then three explosions erupted from a manhole.
The Bluefield Fire Department and Bluefield Police Department had streets around the Bland Street area blocked. Lt. R. Stevenson with the fire department said firefighters were initially paged out to an explosion and smoke coming from a manhole. The manhole is on Bland Street near Chicory Square.
About five minutes after the fire department arrived, a second explosion came out the manhole, Stevenson stated at the scene.
"We evacuated both sides of the street to create a safe zone," he said.
A third explosion happened soon after the safe zone was established. Bluefield Gas was notified because a gas line runs near the manhole, and American Electric Power (AEP) was contacted to investigate the power supply running from the manhole, he said.
First responders waited for an AEP underground team dispatched from Christiansburg, Va. to arrive before proceeding.
Stevenson said he could not speculate about the explosions' cause at that time. Smoke could still be seen coming from the manhole until it was hosed down. Firefighters went down the manhole and checked an adjoining building for fire damage.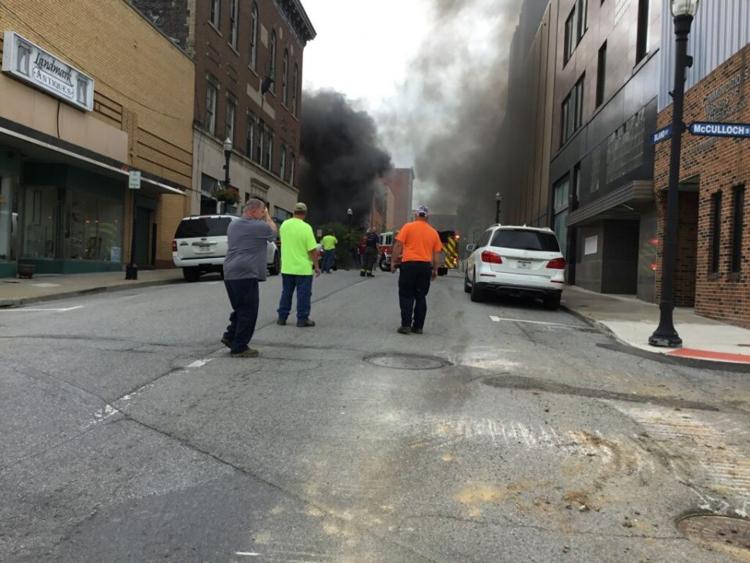 Firefighters started preparing to leave the scene about 1:30 p.m. Stevenson said power was still out on the block, but there did not appear to be any damage in the block's structures. Stevenson did not immediately know when the street would reopen.
No injuries were reported. The Green Valley-Glenwood Volunteer Fire Department and the Bluefield, Va. Fire Department were on standby to assist along with the Bluefield Rescue Squad.
Contact Greg Jordan at gjordan@bdtonline.com