LINDSIDE — An iconic barn in Monroe County was the scene Wednesday morning for a rededication of the nation's first Spit Tobacco Prevention Barn.
Originally painted to campaign against chewing tobacco 10 years ago, the 10th anniversary was celebrated with a new paint scheme, and the participation of fourth and fifth-grade students from Peterstown Elementary School.
Greg Puckett, Mercer County Commissioner and director of Community Connections, one of the event's sponsors, said the barn, located on Rt. 219 between Peterstown and Lindside, was repainted on three sides by nationally-recognized artist Scott Hagan, also know as "The Barn Artist."
"Being that this is the first one we wanted to make sure we came back and modernize it," Puckett said. "We gave it a new fresh coat of paint. We also wanted to give a patriotic look to it because we had promised Mr. Allen (Roger Allen, owner of the property) a flag 10 years ago but we were never able to get back to it. We finally were able to fulfill that promise."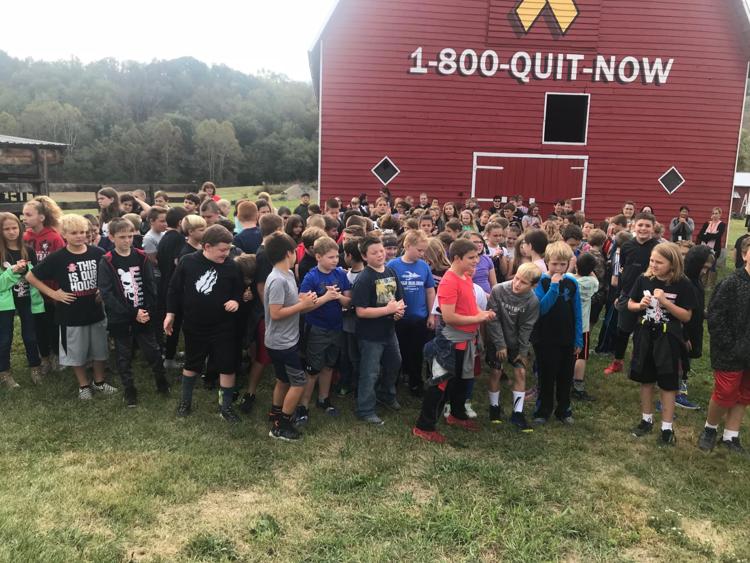 The success of that barn helped the program to continue.
"This barn is what was able to springboard the other barns," he said. "We have 15 now across the state and two in Kentucky."
Puckett said they have formed partnerships and also have quit smoking barns as well as breast cancer awareness barns.
"We also wanted to get the helpline number (1-800-quit-now) on there so if anyone wants to find resources to stop tobacco use they can do that," he said.
The phone number is on the front of the barn facing Rt. 219. A giant American flag covers the right side and on the left side is: "Quit Spit Tobacco Treat Yourself To Health."
Allen said he grew tobacco on the farm at one time, but never used it, and the dangers of tobacco use were not well known at the time.
He and his wife also had a family member who suffered serious health consequences from tobacco use.
When he learned a barn was being sought 10 years ago to help people quit and for prevention, he called and wanted to help.
"I agree with everything they are doing to stop it," Allen said.
"With the message on it, if you can save one child from getting into to that kind of thing, it's well worth it," his wife said.
Puckett told the students about the history of the barn, and about the importance of the message.
They stood in front of the flag and said the pledge of allegiance as well as sing "The Star-Spangled Banner."
Many students asked questions about the barn and the messages.
Joetta Basile, superintendent of Monroe County Schools, read a proclamation from the Monroe County Commission about the dedication of the barn and the dangers of tobacco use.
"They can hear this in a classroom," Basile said after reading the proclamation. "But taking them out like this is more effective."
Jillian Stevens, 11, a fifth-grader, said she was impressed with the barn.
"I think it's an amazing thing to see what they are doing with it and how great they are doing," she said. "It's been 10 years and it's actually kind of cool. I think it's great he came out and painted the barn."
Stevens, daughter of Guy and Stephanie Buchanan, said students had a good time.
"I had a great time and I think all of us did," she said. "Hearing them speak, it's just amazing."
Summer Amos, who is 12 and the daughter of Jason and Jennifer Blankenship, is also a fifth-grader and enjoyed participating.
"I think it was pretty cool," she said, adding that she believed the message too.
"I will never use tobacco," she said.
Jeana Carr, Early Headstart Director and with the Family Resource Center, was on hand to help with the event.
"I thought it was amazing," she said. "Mr. Puckett did an excellent job in his presentation to the children."
Carr said all of the kids there may not remember all the specifics but they will remember enough when they pass the barn to ask their parents to look.
"It was kind of sad about how many children raised their hands who knew someone who used spit tobacco," she said. "Hopefully, the barn will help get the message out."
After the dedication, Puckett said it went well.
"It was perfect to have the kids here," he said. "I think the message will transcend much deeper than if they just hear it in the classroom. To be here at the dedication and have them participate in the pledge of allegiance next to the flag as well as sing the Star-Spangled Banner, I think it and the message will resonate with them."
Puckett said when kids were asked if they knew anyone who used tobacco, almost all raised their hands.
"That in itself says that they are our best messengers," he said. "If this is a barn that can help give that message, then it's a job well done."
Representatives from the Monroe County Family Resource Network were also on hand.
Puckett said that, culturally, tobacco use, including smokeless or spit tobacco, cigarette smoking, and cigar smoking, remains the leading preventable cause of death in the United States. In Monroe County, the local coalition still maintains that spit tobacco (chewing tobacco or snuff) is still a culturally accepted form of addiction that affects the general population as well as youth, he added.
By the latest statistics, 11.5 percent of high school students in West Virginia used chewing tobacco, snuff or dip on at least one day in the past 30 days, compared to the national rate was 5.5 percent, and poly use with other tobacco-based products leads to additional exposure of at least 28 cancer-causing chemicals (carcinogens), and is linked to several different types of cancer, including cancer of the mouth, esophagus and pancreas, and can cause gum disease, tooth decay or loss.
— Contact Charles Boothe at cboothe@bdtonline.com.