PRINCETON — A person who was found shot Jan. 14 after a shooting was reported Jan. 14 at the Strawberry Loop Road near Princeton is now facing charges including first-degree robbery and attempted first-degree murder.
Two people are facing charges in connection with a shooting incident at the Strawberry Loop Road area near Princeton.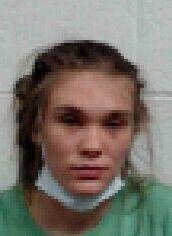 Amy Mitchem, 20, of Bluefield has been charged with "robbery or attempted robbery" and principal in the second degree in relation to a shooting reported after midnight on Jan. 14, according a criminal complaint filed by Lt. M.T. Hatfield of the Mercer County Sheriff's Department.
After an investigation, the person who was found shot, Timothy Gibbs, no age or address available, was arrested Friday in Welch by the U.S. Marshals Service, according to Detective-Sergeant S.A. Sommers with the Mercer County Sheriff's Department. Gibbs, who was on federal probation, was being arraigned in McDowell County Magistrate Court.
Gibbs is facing charges including first-degree robbery, attempted first-degree murder, six counts of wanton endangerment, and possession of a firearm by a felon, Sommers said. Gibbs had been hospitalized at Charleston Area Medical Center.
Gibbs told investigators after the shooting that he was walking from the area of the country store at the intersection of Maple Acres Road and Glenwood Park Road. He said that when he arrived at Strawberry Loop, he was confronted by a male individual who "attempted to rob him and steal his cellphone," and that he was shot after a fight started and the male "produced a firearm and Gibbs was shot," Hatfield said in his report.
A search of Mitchem's cellphone, which was conducted after a search warrant was obtained, showed that Mitchem and Gibbs had "conspired together" to lure a Bluefield man to Strawberry Loop Road, and "Timothy's intent was to commit robbery," Hatfield said. The intended victim thought that he was going to pick up a bag for Mitchem.
The man, who was located with help from the Bluefield Police Department, said he had a Glock 9-mm with him. Hatfield said in the report. When he arrived at his destination, he "heard what sounded like a slide of a semi-automatic pistol and was met by gunfire. He stated that he fell back, quickly checked himself for injuries and was able to return fire." Fearing for his life, he fled the area.
Sommers said this man was not facing charges.
When the shooting scene was searched, two types of shell casings were recovered. Six were labeled "50 S&W CBC" and another six were labeled "WOLF 9-mm LUGER," according to the criminal complaint. A black and red Superman book bag was recovered at the crime scene as well.
Mitchem is being held at the Southern Regional Jail on a $25,000 cash-only bond.
Gibbs appeared before Magistrate Danny Mitchell for arraignment. Mitchell set a $25,000 cash or surety bond. Gibbs was remanded Friday afternoon to the McDowell County Holding Unit pending his transfer to a regional jail.
— Contact Greg Jordan at gjordan@bdtonline.com