PRINCETON — Cars pulled up Tuesday morning to Princeton Community Hospital's Parkview Portico entrance, stopped, and waited for a person wearing protective gear to come out and get a sample that could be tested for the COVID-19 virus.
Princeton Community Hospital started offering drive-up coronavirus outpatient testing Tuesday for people with a physician's order. The hospital's plans call for offering this outpatient testing Monday through Friday from 10 a.m. to 2 p.m., said Lynn Thompson, director of quality and case management at PCH.
"Well, it was a group effort, and we have a strike team that has been formulated from our incident command from the emergency management," she said Tuesday afternoon when testing was done for the day. "And we wanted to try to do stand-up and drive-through testing for the outpatient testing. The team met and tried to come up with ways we could implement this. We worked through various scenarios, and the final outcome was that we would use the Parkview Portico area for the drive-through outpatient testing for the COVID-19."
The new drive-through testing was announced late Monday afternoon, but the public's response was strong on Tuesday morning.
"We did a total of 10," Thompson said. "And, actually, we were kind of surprised because we didn't push this out until the late afternoon, early evening hours last night. Probably the majority of them showed up in the early phase of it. They did seem to come earlier in the morning."
Outpatients coming to the drive-through testing need to have their physician's order or their physician needs to send PCH a copy ahead of time. 
"Then what we do is have somebody go out to do a quick register, their name, date of birth and (phone) number so we can contact them for their insurance information," Thompson said. "And then a clinical person goes out to do the actual swabbing."
Physicians are informed about the test results, then the physicians will contact their patients, she stated.
The hospital plans to continue offering the drive-through testing Monday through Friday from 10 a.m. to 2 p.m. but this scheduling could change.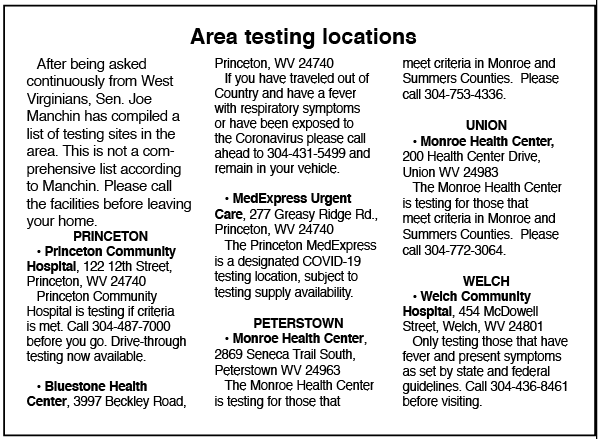 "If we see that we need to expand our hours, we plan on doing that as well," Thompson said.
Outside laboratories such as LabCorp were doing the coronavirus testing. The hospital plans to do its own testing once the necessary kits become available.
"We've submitted our requests for them and we're waiting for those to be delivered," Thompson stated. "We hope to have them early next week."
Testing can still be done for people who do not use the drive-through outpatient service, but the drive-through is the preferred way, she said. Outpatients can come to the Parkview Portico entrance from 6 a.m. to 5:15 p.m., and the hospital's main entrance from 6 a.m. to 6 p.m. These patients still need an outpatient order from their doctors in order to be tested.
"With the drive-through service, we're trying to prevent them from having to come through the building. When the drive-through is open, we would prefer to use the drive-through," Thompson said. 
— Contact Greg Jordan at gjordan@bdtonline.com