PRINCETON —Hundreds of local car enthusiasts converged on Pantili Mitsubishi in Princeton on Saturday to check out custom rides and help support a good cause.
Madness in the Mountains Custom Car and Truck Show raised more than $4,500 for the Ronald McDonald House Charities of Southern West Virginia.
The money was raised through raffle tickets, 50/50 tickets, and t-shirt and hat sales. Many of the vendors also hosted raffles specific to their tent and donated the proceeds to the Ronald McDonald House.
Chad Hutchens, the event organizer, said he chose Ronald McDonald house because of the good they do.
"A lot of the people I know have been helped by them, and any time you get on Facebook you'll see something that kind of touches you," Hutchens said.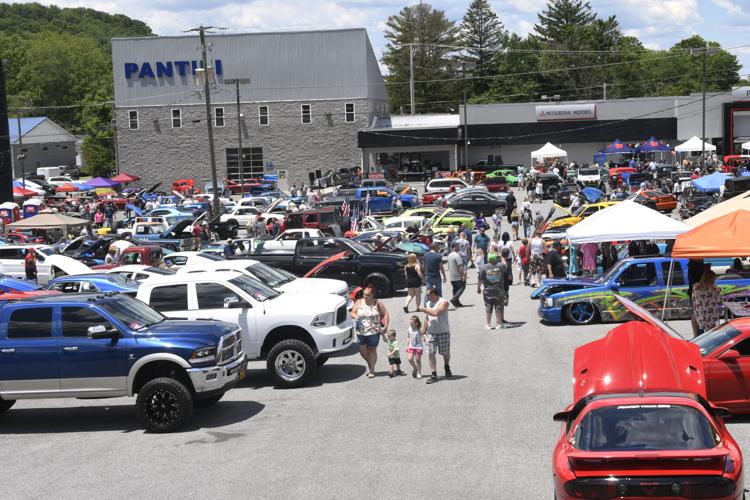 The Ronald McDonald House of Southern West Virginia is located in Charleston adjacent to CAMC Women and Children's Hospital. The mission of the house is "to create, find and support programs that directly improve the health and well-being of children and their families."
A statement on the organization's website reads: "A Ronald McDonald House is that 'home away from home' for families so they can stay close by their hospitalized child at little or no cost. Our Houses are built on the simple idea that nothing else should matter when a family is focused on the health of their child – not where they can afford to stay, where they will get their next meal or where they will lay their head at night to rest. We believe that when a child is hospitalized the love and support of family is as powerful as the strongest medicine prescribed."
For Jennifer and Ethan Oliver, who attended the event, the Ronald McDonald House has proven to be a home away from home.
"We didn't plan on Ethan having cancer... we made hundreds of trips, he did treatment for almost three and a half years, and any kind of fever, we had to go to Charleston, he had IV chemo treatment every week for about nine months and then it kind of tapered off a little," Jennifer said.
Jennifer said with all this, you've likely been up all day, you're exhausted, and it is nice to go to a place that feels like a home.
"Ethan loves the Ronald McDonald House; that was the highlight of his treatment and it was the one thing he looked forward to," Jennifer said.
Ethan said he was happy that so many people came out and supported the Ronald McDonald House. Ethan helped pass out all the specialty awards during the awards ceremony, as well as pose for pictures with the winners.
Hutchens had set a goal of how much money he wanted to raise, and he met that goal.
"I really appreciate everybody coming out and supporting a great cause... I know the families that have been helped locally definitely appreciate it. You never know when you may need the Ronald McDonald House," he said.