CEDAR BLUFF, Va. — Almost 100 kayaks and tubes hit the Clinch River in Tazewell County Sunday afternoon for a leisurely float for a few miles and to promote the beauty of the river and the area.
The "adventure excursion" was sponsored by the Cedar Bluff Business and Professional Association and the Clinch River Kayak Club.
Participants unloaded their vessels near the Historic Grist Mill and the McGuire-Peery House in Cedar Bluff with takeout points at the Critterville Playground or the old Washington Square Clinic in Richlands.
"We have a beautiful area of the county," said LaRhonda Lindsey, who lives at the McGuire-Peery House and was also a participant in the float.
Lindsey said the float was a great way to showcase the river's beauty.
It was her first kayak experience, although her children have been kayaking for several years.
Lindsey, who coaches the Richlands High School state AA West regional championship soccer team, said she thought it was time for her to try it.
"I only flipped once," she said.
But that flip did not at all take away from the experience.
"I enjoyed it," she said. "It was so relaxing and peaceful."
Her daughter Ellie, 16, and a member of the soccer team, said she has been kayaking since she was 12 and does both rivers and lakes.
On this trip, she took her dog "Chaco" with her, a poodle/golden retriever mix who, she said, enjoyed the ride.
Ellie said she prefers to kayak on rivers.
"But I wish the river was a little deeper," she said.
Kayakers on occasion had to get out and pull their kayaks across shallow rapids because the river was not at optimal level.
Lynn Cole of Pounding Mill was there with her 13-year-old son Chase.
"This is something they started to get together for the community," she said, referring to this float and a float in March. "I learned about it on Facebook."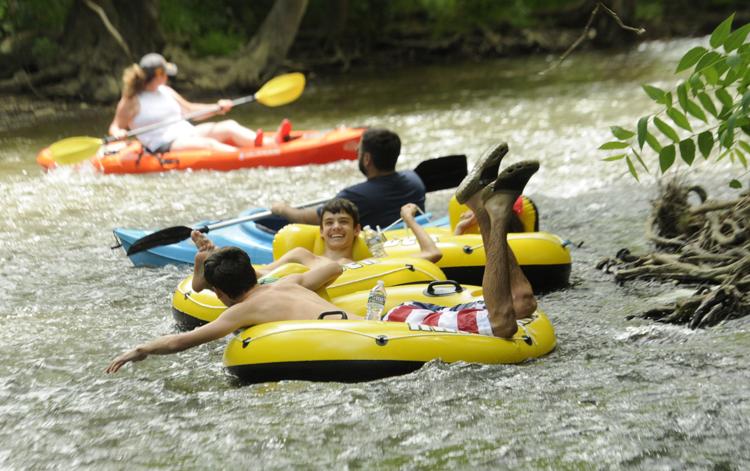 Cole, who has been kayaking for about a year, said this was her first trip on the Clinch River.
"It was an experience, for sure," she said. "The river was low in places so we had to walk across the rocks. But I enjoyed it."
Cole said everyone thought the river would be up a little, but it wasn't.
"But this time of year, it could have been drier than it has been," she said
Chase said he enjoyed the float as well.
"I thought it was pretty cool," he said.
Both said they will float the Clinch again and hope other excursions are planned.
Terry Stevenson, who works for the Town of Cedar Bluff and was helping with the event, said there will be more floats and other events.
"We will do this again," he said. "We plan to do it quite a bit."
Stevenson and his wife Donna were gathering the kayaks at the Critterville takeout point and hauling them back to the Cedar Bluff put-in site.
"I think it's going to continue to grow," he said.
Donna Stevenson said she has not kayaked yet, but wants to.
"I couldn't today because we helped with the event," she said. "But I would love to do it."
She lives in and is renovating an historic home in Cedar Bluff and says the area has a lot to offer in history and recreational opportunities.
"There are a lot of attractive things here," she said.
The Clinch River starts near Tazewell and flows for more than 300 miles, joining the Powell River in Tennessee.
— Contact Charles Boothe at cboothe@bdtonline.com