NARROWS, Va. — All eastbound and westbound traffic on Route 460 between Narrows, Va. and Rich Creek, Va. has been blocked indefinitely due to landslides and related road hazards, creating a chaotic traffic situation for Giles County law enforcement officers throughout the Memorial Day weekend.
The damage that is the source of all the difficulty isn't likely to be repaired soon, Virginia Department of Transportation officials said.
County officials, law enforcement and VDOT workers have been attempting to redirect traffic to safer alternate eastbound and westbound routes, but these efforts have been complicated by drivers following GPS driving app instructions instead of following the illuminated warning signs VDOT has posted.
"I think some of these truckers will follow a GPS over the edge of a damn cliff if it told them 'recalculating ... turn right.' They need to turn off their apps and pay attention to signs in a situation like this," said Capt. E.S. Thwaites of the Giles County Sheriff's Office, who noted that errant commercial truck traffic has compounded the congestion at multiple traffic choke points.
The landslides which resulted in all four lanes of traffic being affected on Route 460 are located just east of State Line Road, on the steep bluffs between Rich Creek and Narrows. The slides occurred Friday evening. The VDOT's earlier optimism that the trouble could be easily addressed was replaced by uncertainty upon further inspection of the damage.
Portions of the upper two westbound lanes — which had already been confined to one lane due to partial collapse — are threatening to collapse completely, officials reported. The retaining wall which upholds and supports those lanes have been gradually buckling outward, a process which has been accelerated due to all the recent wet weather.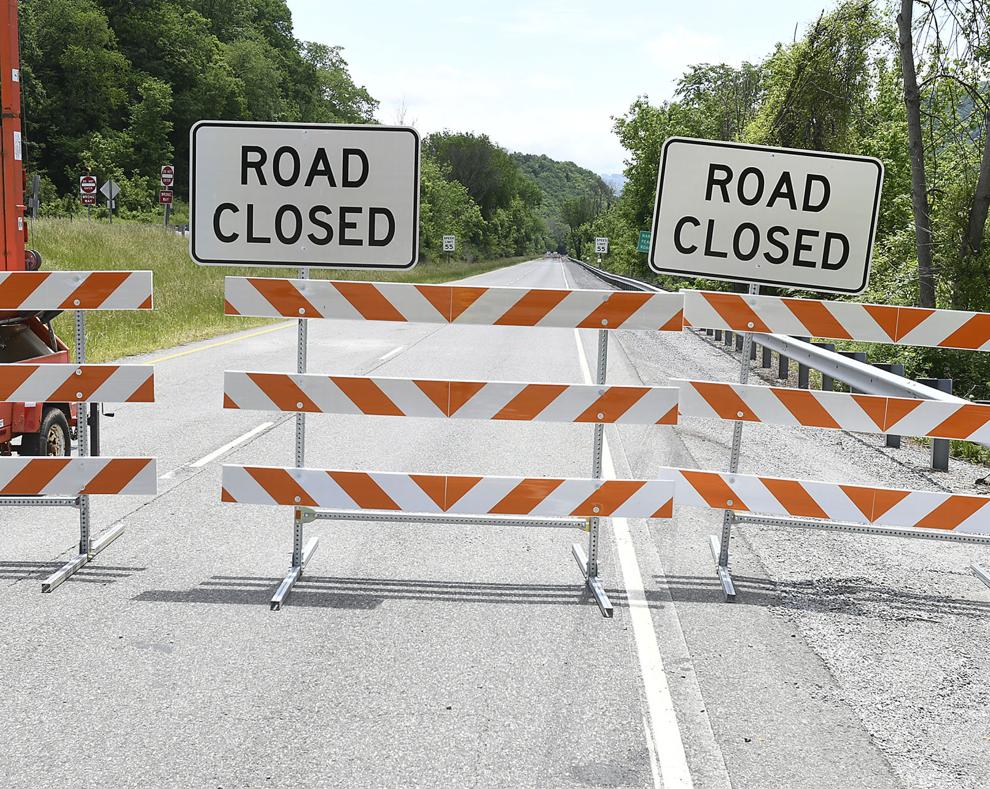 The components which comprise the retaining wall structure are poised to eventually collapse entirely onto the two eastbound lanes below.
VDOT officials they were prepared to induce a controlled collapse of the retaining wall so repairs could begin immediately. However, the area remains so saturated by rainfall that the site remains too unstable for workers to safely effect a controlled collapse.
Route 460 traffic between Mercer County and Rich Creek, Va. and adjoining Monroe County remains unaffected in both directions. However, there is no eastbound or westbound traffic whatsoever allowed on 460 between Rich Creek and Narrows. You cannot go any further west than Narrows from the eastern side. You cannot go any further east from the western side than Rich Creek, at Burger Boy.
Giles County officials recommended that Princeton or Bluefield residents needing to travel Route 460 East en route to Narrows, Pearisburg, Pembroke or further on to Blacksburg, Va. and Montgomery County can circumvent the closed section by taking an alternate route that lies just on the other side of the East River Mountain Tunnel.
These motorists should take Interstate 77 South through the tunnel, getting off the interstate by taking the Rocky Gap, Va. exit. Traffic should then follow the signs to State Route 678/Va. 61-E and travel east along 61, which roughly parallels the downstream flow of Wolf Creek to Narrows.
Once reaching the corporate limits of Narrows, motorists should continue through town on Route 61, crossing the New River via the Fletcher Bridge. At the end of the bridge, motorists should take a right turn onto a curving downhill street that terminates at the traffic light intersection of Route 460. Motorists should anticipate a left hand turn at the traffic light, since only eastbound traffic onto Route 460 is allowed at this point,
Conversely, Bluefield and Princeton residents returning west on 460 should expect to make a right hand turn at the Narrows traffic light, subsequently traveling uphill bearing left until making a left hand turn onto the Fletcher Bridge. Motorists may then follow Route 61 all the way to Rocky Gap, whereupon they should take the entrance ramp to North 1-77, passing through East River Mountain.
Bluefield and Green Valley residents should try to be in the right hand lane when entering the tunnel. Once they exit the tunnel they will need to make an immediate right-hand turn onto the Exit 1 ramp to John Nash Boulevard.
Thwaites emphasized that the alternate route between Mercer Country and Giles County that will do the most to untangle bottlenecked traffic between Mercer and Giles counties is the Route 61 detour between Narrows and Rocky Gap. There is only a 5-to-10 minute difference for motorists taking that detour as opposed to taking Route 460 under normal traffic conditions, he said. This is the route commercial truckers should definitely take.
Lurich Road, a narrow rural road located on the Glen Lyn side of the New River, should be reserved for local residents and for local traffic — not through traffic, he said. The Lurich Road is part of an alternate route to be taken by Monroe County and Rich Creek, Va. residents who must routinely travel east on U.S. 460 past Narrows. These residents will have to travel west on 460 to Glen Lyn before taking the Lurich Road, back tracking east to Narrows. To get past the closures, they would reverse the same route to return home.
Thwaites noted that there are traffic signs posted at both ends of Lurich Road prohibiting commercial tractor trailer traffic. However, county officers have had to contend with multiple truckers who have been ignoring the plainly-marked warning signs and taking the Lurich route, making for unsafe conditions on a road that is not equipped for that kind of heavy traffic.
Even with warning signs having been posted, officers have had to be placed at both ends of Lurich Road to direct commercial traffic away from it.
"Lurich Road should only be for folks that need to go locally back to Glen Lyn and Oakvale or back to Rich Creek, Peterstown and Ballard," Thwaites said.
"Having tractor trailers on Lurich Road especially creates the potential for really bad vehicle accidents. Truck drivers who need to get past this closed section of road on 460, east or west, need to take Route 61 between Narrows and Rocky Gap. Otherwise, you can expect to turn around and go back the way you came," Thwaites said.
— Contact George Thwaites at gthwaites@bdtonline.com