TAZEWELL, Va. – A Tazewell County deputy got an extra surprise Wednesday when his father the sheriff and other law enforcement colleagues were on hand when he was named the Commonwealth of Virginia's DARE Officer of the Year.
Deputy Landon Hieatt of the Tazewell County Sheriff's Office was recognized at the 2019 Virginia School Safety Training Forum in Hampton, Va. as the recipient of the Bentowski-Eanes Virginia DARE Officer of the Year award. He was one of a number of nominees that were looked at from across the Commonwealth.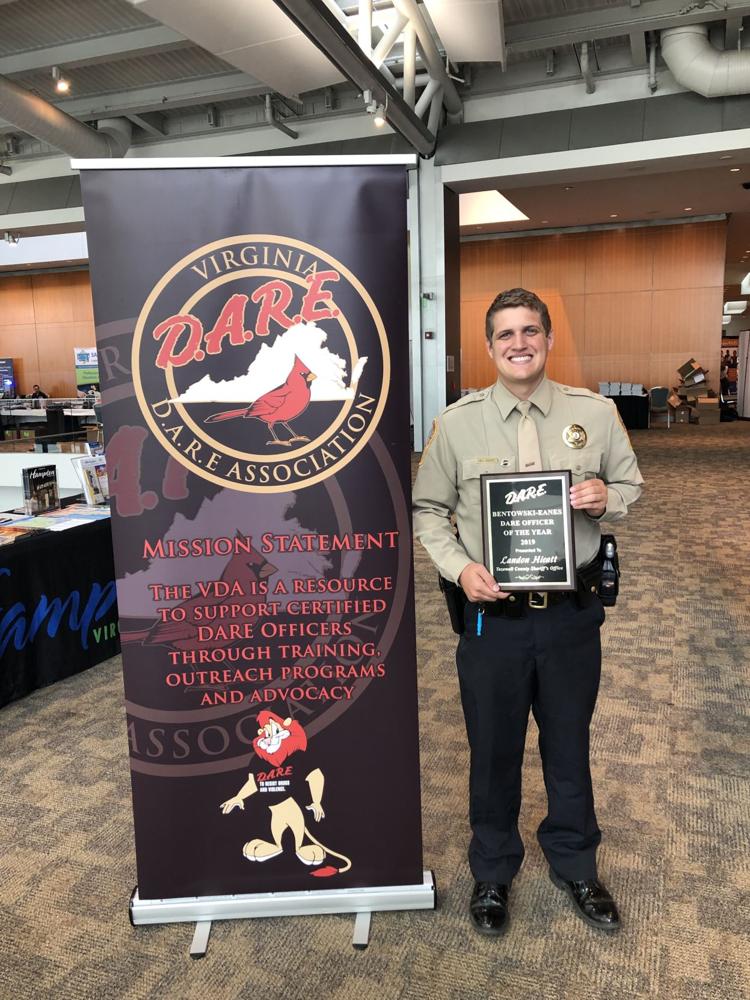 Deputy Hieatt, who is the son of Sheriff Brian Hieatt, is a four-year veteran of the Sheriff's Office and has been a DARE (Drug Abuse Resistance Education) officer for three years. During this time, he has taken on the responsibility of teaching the DARE program at the elementary and middle school levels.
The DARE program, and its over 200 DARE officers statewide, not only educate students about violence, bullying, alcohol, and tobacco, but has allowed Deputy Hieatt to build relationships with students throughout the county.
"He invests in these children on a daily basis and works diligently in the schools to make them a better place." said Cpl. Glen Keen, who supervises the DARE Program in Tazewell County.
In addition to teaching the DARE Program, Deputy Hieatt also volunteers a lot his of time making community oriented videos for the Tazewell County Sheriff's Office, helping to make a positive impact between law enforcement and the citizens of Tazewell County through social media. He graduated from the Southwest Virginia Criminal Justice Training Academy in Bristol, Va., attended DARE Officer Training through the North Carolina DARE Association, and is also a Certified School Resource Officer and works as an SRO securing local schools when not teaching DARE.
"I've been a DARE officer for three years now," Deputy Hieatt told the Daily Telegraph. "DARE is in the elementary schools and middle schools. I'm a school resource officer; that's when I'm not teaching DARE. When I'm teaching DARE, I'm talking to the kids about making good decisions and knowing the information they need to know. "
DARE focuses on tobacco and alcohol since those are the substances elementary and middle school students are most likely to obtain, he said. The program also helps children learn about getting good communications skills, dealing with bullying, and dealing with stress.
"If we can teach them to have good decision-making skills, hopefully that will help them go down the path they need to go," Deputy Hieatt said.
Deputies attending the conference usually wear civilian attired, but Deputy Hieatt was asked Wednesday to wear his uniform for a photograph.
"That was to get me to wear my uniform," he recalled. "We normally wear Polos. When they announced my name and I went up there, my dad the sheriff came out with the others. He was there to greet me when I got off the stage."
Sheriff Hieatt spoke to the Daily Telegraph while he was driving back from Hampton,Va.
"That's my son and he has followed in his father's footsteps," he said. "Not only in law enforcement but teaching DARE. He says he's a second-generation DARE officer."
Deputy Hieatt is planning to further his involvement with the DARE program by seeking a position on the Virginia Dare Association Board. By doing this, he could potentially expand his impact as a DARE officer on the state level.
"I am confidant that we have the best school safety program in all of southwest Virginia, and seeing Landon get this State Award is just one more piece of evidence to support that conclusion." David Woodard, Chairman of the Tazewell County Public Schools, said.
— Contact Greg Jordan at gjordan@bdtonline.com