GRUNDY, Va. — After almost 40 years, a murder which led to the arrest, trial, conviction and execution of a Buchanan County,Va. man charged with raping and killing his sister-in-law continues to haunt a man who worked to prove his innocence.
Jim McCloskey, who is not an attorney, was studying for the ministry when he founded Centurion Ministries, an organization which is committed to freeing the wrongly imprisoned. Working with forensic experts, lawyers and volunteers, Centurion has freed 63 men and women who had been sentenced to life in prison or to death for crimes they did not commit.
One of the cases Centurion Ministries took in 1988 was that of Roger Keith Coleman of Grundy, Va., who was charged with raping and murdering his sister-in-law, 19-year-old Wanda Faye McCoy, on March 10, 1981. She was found in her bedroom, and her attacker had slashed her neck, leaving a wound that was 4-inches deep and severed her jugular vein, according to court testimony. Her attacker had also stabbed her twice in the chest.
The Coleman case is part of McCloskey's recently-published book "When Truth is All You Have." In the book, McCloskey describes the work of Centurion Ministries and the problem of wrongful convictions.
McCloskey was in the U.S. Navy, serving from 1964 to 1967 in Japan and later in Vietnam where he was an advisor for the South Vietnamese Junk Fleet, junk referring to the wooden boats used to patrol the rivers of the Mekong Delta. After leaving the Navy, he spent 12 years in the business world, spending half that time in Tokyo as a consultant for western firms wanting to do business in Japan. Later, he came home to Philadelphia where he worked for Hay Associates, helping the company build its business with Japanese companies operating in the United States and establishing a company office in Japan.
After years of working in the business world, McCloskey decided it was time for a new career.
"And then at the age 37, in 1979, I felt a call to leave the business world and go into the ministry," he recalled. "So in order to do that, to qualify for that, I came up to Princeton, NJ and enrolled in their Princeton Theological Seminary and enrolled in their three-year Master of Divinity program which is a requirement for Presbyterian ordination to become a church pastor."
That decision took McCloskey on a new path he had not expected. 
"While in that capacity as a student, in 1980, I did my field education work as a student chaplain at Trent State Prison and that's where I encountered what turned out to be my first innocent person. I had no experience with the criminal justice system and you're right, I'm not an attorney, I've never gone to law school. I'm a lay person in the full sense of that word," he stated.
That man, Jorge del lose Santos, was "one of the 40 men in the 40 cells of the two cell blocks I was assigned to. I came to believe he was innocent," McCloskey said. I took a year off from school to work full time on his behalf."
McCloskey investigated the case, found a lawyer, and together they worked on the Santos case. He returned to the seminary after a year's leave and graduated in 1983. Santos was exonerated and freed.
"And I had met two other New Jersey lifers whose innocence I had come to believe so I felt that my calling was rather than going on and becoming an ordained church pastor, God was calling me to work on behalf of the convicted innocent in America," McCloskey said. "That was when I founded Centurion Ministries in the summer of 1983 and it all began in that fashion."
The case of Roger Keith Coleman came to McCloskey's attention in early 1987. Centurion Ministries received requests for help from three different men on three different death rows. Roger Coleman, in Virginia, was one of them. The other two were from another Louisiana and Texas.
"Somebody on behalf of Roger had sent us a packet of material introducing us to the Roger Coleman case believing he was innocent. So we contacted Roger and he immediately started sending us materials, the record of the case," McCloskey said. "By the record I mean trial transcripts, legal briefs, and any police reports to the extent we could get them and we evaluated them carefully over time and in order to decide whether or not we wanted to take the case and begin to work on his behalf, I went down to Virginia and visited him on death row; and began the work of the case. That was in March of 1988, a year after we first became familiar with him and his case."
McCloskey said that his first impression was that the Commonwealth's case against Coleman "didn't make sense and "was almost nonsensical." Then McCloskey interviewed Coleman, and "it didn't seem to me that he had the motivation or the time or the opportunity to do this crime." McCloskey added that the prosecution's case also had a jailhouse confession Coleman allegedly made to another inmate, and this inmate's testimony "was very suspect."
"Then when I met Roger during that interview, which was the last step in deciding whether to take that case on, I was impressed with him as an individual. He seemed very honest to me, he answered all of my questions in detail and I felt forthrightly; and I was impressed with him, and so I believed him and his account of things and his very serious claims of actual innocence," McCloskey stated. "I decided then and there, all right, I'm going to begin to investigate this case and see what I come up with."
Coleman was the suspect police immediately considered after Wanda Faye McCoy's murder. Coleman was convicted of an attempted rape in 1977 and served two years in prison. McCloskey said he had serious questions about that conviction. A school superintendent and his daughter had encountered Coleman at a local high school and spoke with him while the attempted rape took place. The victim testified that she had scratched her attacker's neck, but Coleman didn't have any scratches on his neck. McCloskey said that Coleman told him that it was a case of mistaken identity.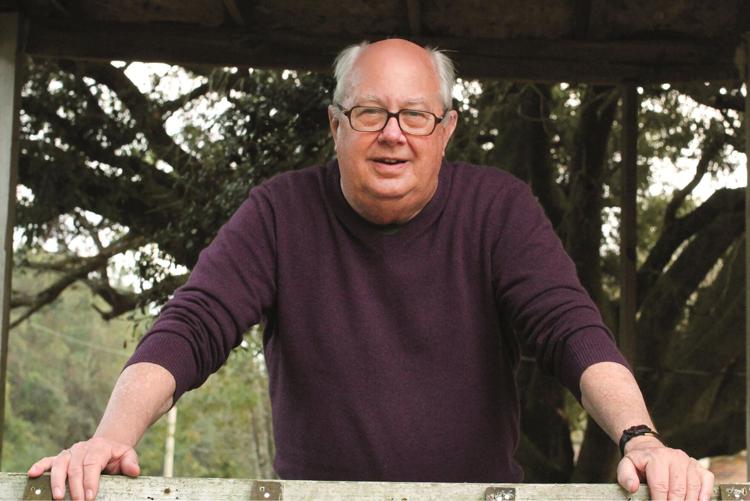 McCloskey said that in many of the cases Centurion Ministries have worked over 40 years across the nation and in Canada, investigators will get "tunnel vision" once they get a suspect and dismiss information to the contrary. The Coleman case's investigator, Jack Davidson of the Virginia State Police office in Wytheville, Va. was "well intentioned," but "nothing would deter him from that and he built his case around Roger."
The day after the murder, police went to Coleman's home and got the work clothes he had been wearing the previous evening. They were covered with coal dust, and nothing incriminating was found, McCloskey stated. The bottom of his dungarees were wet, and Coleman said they got wet at the Grundy Bathhouse where he had changed out of his work clothes and showered after being told his night shift had been canceled.
McCloskey said he investigated the route Coleman took the night of the murder, and did not see how he had time to commit the crime. Coleman's wife testified that he left for work that evening; his shift was scheduled to start at 10 p.m. and continue until 6 or 7 a.m. His boss told him when he arrived that the night shift had been canceled.
Both the prosecution and the defense accepted that Wanda Faye McCoy was killed between 10:30 and 11 p.m. After Coleman was told that his shift was canceled, he left, drove down the mountain and encountered a friend, Phillip Van Dyke, who was on his way to another coal mine about a quarter mile away. Van Dyke, who was watching the time, said he left Coleman at about 10:25 or 10:30 p.m. Company records showed that Van Dyke had reported for work at 10:41 p.m.
McCloskey said the next part of Coleman's movements that night were "undisputed." 
"Roger drives 3 miles south through Grundy, goes another 5 miles east along the Slate Creek Highway," he recalled. "He drives out to Boyd's Trailer Park, which is 5 miles due east of downtown Grundy. Now on his way out there he passes Wanda McCoy's Longbottom neighborhood. Now, if he wanted to kill Wanda, and his knows that Brad McCoy, her husband, gets home about 11 or 11:15 (p.m.), so he'd better get up there and kill her right away, but he passes by her neighborhood."
Coleman arrived at Boyd's Trailer Park at about 10:40 p.m. He stopped at a friend's trailer only to learn he wasn't there, then went to another trailer where he picked up a music tape he had loaned to the man and woman there. A total of four people saw him at the trailer park, McCloskey said.
"Here's where the state's case gets crazy," McCloskey said.
The trial prosecutors told the jury that Coleman went to the trailer park to rape a woman there. When he got there, her husband was there and he couldn't do that, so he decided to attack his sister-in-law instead, he stated.
"There's no evidence, there's no information, there's nothing to indicate that Roger had any ill intention for anybody," McCloskey added. "There was absolutely no evidence. Nothing. Zero. They were just trying to paint a sordid picture of Roger Coleman that night."
McCloskey said Coleman had no motivation for the crime. According to Wanda's husband, Brad McCoy, and her family, Coleman was "one of the very few people a very shy Wanda McCoy would trust and allow in her house. They had a good relationship."
According to the Commonwealth's case, Coleman parked his pickup truck along the "fairly well-traveled" Slate Creek Highway where he could be easily seen, waded through fast-moving creek, walked into adjacent neighborhood and to the McCoy home; this trip is about 350 yards long. McCloskey said that he dressed in coal mining clothes and took the same route about seven years later, and it was "20 minutes back and forth."
"He somehow gains entry, she lets him in because she trusted him...and he kills her in a very, very brutal way," McCloskey said as he described the prosecution's argument. "Then he retraces his steps where he could easily be seen."
Coleman went to the Grundy Bathhouse, which was about 2 miles from Longbottom, after leaving Boyd's Trailer Park, showered and changed out of his work clothes, McCloskey said. His wife, Patricia, was surprised when her husband came home at 11:05 p.m.; in her surprise, she had checked the time.
McCloskey said the narrow time frame didn't leave Coleman enough time to commit the murder.
"My point is first of all, the state's speculation is nonsensical and his method of operation to do this doesn't make any sense," McCloskey stated. "He simply didn't have a minute to spare, let alone 20 minutes and there was absolutely no motivation."
A counterpoint in the argument about whether Coleman was innocent or guilty of murder is the DNA evidence.
"That gives me great pause, OK," McCloskey said. "The DNA is very incriminating towards Roger. I don't deny that."
The first DNA test was done in 1990, and it was performed "in the primitive stages of DNA" when the test was still new, he said. The test indicated that two men contributed to the semen sample taken from Wanda McCoy, and the examination showed she had been sodomized as well.
"I think there were two men in this crime," McCloskey stated.
McCloskey said that no coal dust or signs of wetness were found in the McCoy home; however, Wanda McCoy's hands and her sweater sleeves were covered with dirt. The defense hired a retired FBI mineralogist who examined the evidence and confirmed that it was soil and not coal dust.
"This was not brought out at the trial. How do you account for the dirt?" he stated.
McCloskey stated that he believed Wanda McCoy took out the trash that nigh. She carried the trash can about 20 yards down a steep incline to the foot of her driveway.
"I can't prove this, her killer, I think there were two," he said. "They slipped into her house and waited for her to come back or just as she was getting to the door, they pounced on her and dragged her inside."
Medical experts consulted by Centurion Ministries doubted that one of the two donors could have been Wanda's husband, Brad, who testified that he had relations with his wife about 48 hours before the murder, McCloskey stated.
McCloskey spoke with Coleman before he was executed on May 20, 1992. Sitting on the concrete floor outside Coleman's cell, he agreed to keep working on the case and promised to seek a post-execution exoneration.
Fourteen years later in 2005, then-Gov. Mark Warner allowed post-execution DNA to take place, and it was agreed that the test would be conducted by a Canadian laboratory. The same sample that was taken from Wanda McCoy the day after she was murdered was tested.
"They analyzed the semen from the vaginal swab. And it definitely concluded that the major donor of the semen was Roger Coleman's semen. That's a fact," McCloskey said. "There's no question. I don't dispute it, nobody disputes it. When those 2005 DNA tests were announced in January of 2006, I fully expected that Roger would be exonerated and that semen would not be his. I was wrong. I made a public statement that I was wrong, I thought Roger was innocent, and in my view the DNA trumps all the other reasons I had to believe that Roger was innocent."
"However, since that time in the last 15 years, especially in writing my book and doing all the research, every aspect of this case, the only explanation I have for Roger's DNA in her was, and I say this in the book, it's absolutely in the book in black and white. I have no evidence of this, I have no information to indicate that Roger and Wanda, his sister-in-law, who had a very nice relationship, were possibly having a secret affair," he said.
If there was an affair, and McCloskey emphasized repeatedly that he had no evidence for it, nobody would have known about it.
"Over the years since the 2006 results came in, I've often wondered could it be possible that Roger and his sister-in-law were having an affair," he said. "And if that's the case, could Roger been over there 2 or 3 o'clock in the afternoon? I don't know that. I don't want to denigrate the reputation of her or Roger for that matter, but I have to consider that was a possibility, though I don't know there was such a relationship." 
McCloskey was asked why Coleman would not have revealed an affair with his sister-in-law if one had taken place.
"Here's why I think he didn't say anything, because he was afraid that if he ever admitted he was having a sexual affair with her, a romantic relationship with her, that would destroy his marriage, their reputation; and people would think if they were having an affair, they had some kind of argument and she was going to blow the whistle or something ... and could have given motivation to kill her," he said. "Maybe that was his fear. I don't know."
McCloskey still ponders the question about whether Roger Keith Coleman was guilty of murder.
"Anyway, to this day, I wrestle with did Roger do this or did he not? I don't know. It's a dilemma that will follow me until the grave," he said.
— Contact Greg Jordan at gjordan@bdtonline.com