CHARLESTON — Residents can now access county data on COVID vaccinations online.
Bill Crouch, state Department of Health and Human Resources (DHHR) Secretary, said during Gov. Jim Justice's pandemic briefing the information is on the DHHR COVID-19 dashboard.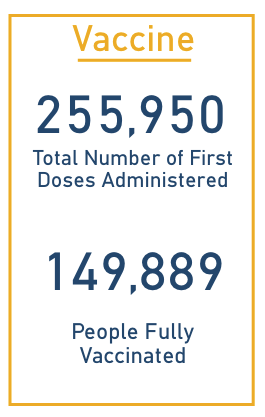 It includes the total number of doses administered in each county as well as the age, race and gender of those vaccinated and percent of total population.
"This is part of our commitment by the Governor to be transparent," he said Wednesday, "and provide information as quickly and in the best manner we can."
Crouch said the dashboard includes a three-minute tutorial on the data and how the system works.
Any problems noticed on the dashboard should be reported to DHHR, he said, and it will be corrected "promptly."
As of Thursday, Mercer County had administered (at least the first dose) a total of 10,176 doses (17.3 percent of population), with 4,746 for age 65 and over. Of that total, 92.5 percent of the recipients were white, 3.1 percent black, 3 percent unknown and 1.2 percent other.
Females are more likely to take the vaccine, comprising 63 percent of the total.
In McDowell County, 3,652 total doses have been given (20.7 percent of population), with 2,268 for age 65 and above with 90.3 percent white, 5.9 percent black and 58 percent female.
Monroe County had given a total of 3,490 doses (26.3 percent of the population). Of those, 2,522 were given to age 65 and above with 98.5 percent white and less than 1 percent black. Females received 59 percent of the doses.
County statistics are available at a time when the number of doses given to counties by the state continues to increase.
Maj. Gen. (retired) James Hoyer, director of the Joint InterAgency Vaccine Task Force, said the county will receive a total of almost 42,000 doses next week, well above the the initial 23,600 a week allotment.
"We continue to see steady progress and growth (in the number of doses)," he said, adding that the state's congressional delegation has helped.
Hoyer also said the state does not waste any doses, even with the recent bad winter weather.
"We will have a plan if we need to move vaccines to another location and then backfill next week (in places that the weather impacted)," he said. "It will depend on the situation in each county. We will get out the vaccine and do it safely."
The state needs to receive at least 125,000 doses a week from the state to be where they want to be, Hoyer said, with the hope the number of doses will continue to increase, especially with Johnson and Johnson possibly coming on board soon.
— Contact Charles Boothe at cboothe@bdtonline.com.