CHARLESTON — A member of the House of Delegates said he intends to sue Del. Eric Porterfield, R-Mercer County, after Porterfield accused him of being intoxicated in public.
Del. Brandon Steele, R-Raleigh County, was responding to a statement issued by Porterfield Wednesday accusing Steele of not only drinking but also "being very aggressive toward me" during an altercation in a parking lot near the Capitol Monday evening.
Porterfield, who is blind, said he filed a complaint with Capitol Police and has also asked the House leadership to discipline Steele and strip him of a committee post.
Steele said Wednesday evening that a verbal altercation did occur on Monday, but he said the intoxication accusation was a "total fabrication" and he has witnesses to prove it, adding that he was never physically aggressive toward Porterfield.
Steele said he has since apologized to Porterfield for the verbiage he used and for losing his temper in the heated exchange, but no apology was accepted and, instead, Porterfield demanded he be punished in the House and filed the complaint.
Although the incident was related to a bill that failed in a committee on a tie vote Monday after Porterfield, who said he supported it, left and did not vote, Steele said it's also related to previous run-ins with Porterfield.
"Everybody knows what Eric Porterfield is, we have had to deal with him for a year and half," he said. "He is here for attention, not to do a job."
Steele shared a text exchange with Porterfield that occurred on Feb. 1.
According to the text, Porterfield told Steele after talking to a mutual friend: "He told me you were a pretty good egg. He figured from knowing me since we've been teenagers and that he knew you pretty well that we would have a lot in common. I told him our biggest difference would be on LGBT issues because I suspected that you may be coming out of the closet. But he assured me that you were not gay even though you walked talked and act like it LOL. I hope that snarling smirk and that face turning red while you laugh and cough with a capital flu have a great weekend LOL"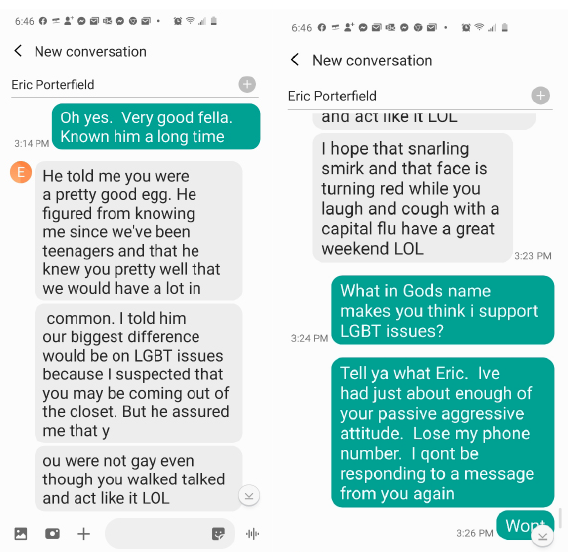 Steele responded: "What in Gods name makes you think I support LGBT issues? Tell ya what Eric. Ive had just about enough of your passive aggressive attitude. Lose my phone number. I won't be responding to a message from you again."
Steele said Porterfield, who stirred controversy last year for calling the LGBT community "socialists" and comparing them to the KKK, is a "bully" who attacks people of different religions and races.
"I am not going to let him bully me," he said. "He bullies these groups then all of a sudden he is a victim."
Steele said it's one thing to differ over policy, but Porterfield takes it "to a different level, a desperate level of vitriol."
"He (Porterfield) is an embarrassment to himself, he is an embarrassment to Mercer County and he is an embarrassment to the State of West Virginia," Steele said.
Porterfield, who stands by his story, said the incident started over a proposed bill related to PEIA (Public Employees Insurance Agency) for state employees.
The bill said that spouses of government employees who are currently covered by PEIA would have to pay for their coverage as spouses, he said, and the "sole sponsor" was Steele.
Porterfield said he thought the bill had been pulled from the Banking and Insurance Committee, but on Monday realized it was still there.
"Prior to the meeting that day I received over a hundred emails from public employees that were opposed to this bill, which confirmed to me that the bill would be controversial," he said. "Shortly before the meeting I was informed that there was an amendment to the bill that would only require payment of the premium by spouses if they did not have other insurance coverage. I was informed that WVEA and Dale Lee (WVEA president) did not oppose the bill as it was amended."
But Porterfield said that he contacted Lee and he indicated that he was very opposed to the bill, adding that Lee stated that it would harm efforts to recruit and retain employees and that his opposition to the bill was one of his highest current priorities.
"Mr. Lee gave his consent to share this information with other delegates, which I did," he said. "The bill was debated at length and I voted on one amendment to the bill but before the final vote occurred on the bill I had to leave to attend another meeting at 2:30 p.m." and he found out later it failed on a tie vote,11-11.
Lee said Wednesday night he does not discuss private conversations he has with legislators but he did issue an official statement about the bill.
"We, the WVEA, were always opposed to the bill," he said. "While the amendment was better than the original bill it still hurt our employees. There was no question that we were opposed to it."
Porterfield said when he was leaving the Capitol around 6 p.m. on Monday to his car he passed a group of delegates "involved in a heated discussion on the sidewalk."
The delegates involved, he said, were Dean Jeffries, R-Kanawha, Eric Householder, R-Berkeley, and Steele.
"The heated discussion seemed to be between Steele and Householder," he said. "As I walked by, Delegate Steele told me to walk away like a coward just like I had from the Committee Meeting (referring to that day's Banking and Insurance Committee). I approached to speak with him about the matter and he became very aggressive toward me; approaching me and face to face with me and causing me to have concern that he might become violent. We briefly argued. I observed the odor of alcohol on his breath and he was apparently intoxicated to some degree. Delegate Householder tried to calm the situation and after a brief time Delegate Steele walked away. I then went on to my car and traveled home."
Steele said that, from his perspective, Porterfield had taken the Lee phone call during the meeting and left at the behest of a "lobbyist," thereby defeating the bill, which he described as being "reasonable" since a spouse would only pay if other insurance was available and rejected.
Steele said was upset about the vote when he left that evening to go home, talking with House Speaker Roger Hanshaw on his way out and the other delegates outside.
"I was assured the votes were there," he said, asking the other delegates about the vote, and he told Householder it would have passed if he had been there.
During that conversation with the other delegates, Porterfield walked by "about 20 feet away" and Steele said he told him he had no excuse not to vote for the bill and said, "You are a downright coward" who listened to a lobbyist.
He said Porterfield replied, asking him why he didn't "say it to his face."
Steele than said, "Are you are 10-year-old, are we on a playground, what do you mean?"
Porterfield then walked over to him "very aggressively and he got nose to nose with me," Steele said, and then he told Porterfield, "You are a coward and a liar" and "cussed him out."
No alcohol was involved at all, he said, and he admitted he lost his temper and tried to apologize to Porterfield Tuesday morning.
"I lost my cool, I lost my temper and I said some things," Steele said. "I shouldn't have said that, there was no excuse, and I apologized."
Rather than accept the apology, he said Porterfield tried to get him removed from his post in the committee and disciplined by the House.
Steele said that, as a response to what happened, Porterfield on Wednesday demanded that bills up for third readings in the House except one be read aloud in their entirety on the House floor, a time-consuming procedure.
When former delegate and gubernatorial candidate Mike Folk, who Steele said was at the House Wednesday, advised Porterfield not to demand the readings of the bills, Porterfield then asked that Folks' privileges be revoked, which was voted down, Steele said.
Porterfield defended his request for the readings and indicated he may continue to do it.
"I … requested that all but one of the bills on third reading be read in their entirety," he said. "I reserve the right to continue to exercise this right until the issues involving Delegate Steele's conduct are properly addressed."
— Contact Charles Boothe at cboothe@bdtonline.com