OAKWOOD, Va. — A Southwest Virginia pharmacy college is now producing hand sanitizer.
The Appalachian College of Pharmacy, which is located in the Oakwood community of Buchanan County, is using its compounding lab to produce hand sanitizer, a hard-to-find item that is in high demand from the public.
In a press release, the college said Tuesday that it delivered its first shipment last week to Food City in an agreement it has to provide ACP-manufactured hand sanitizer for distribution to area Food City pharmacies.
The college said more shipments will be delivered as additional raw materials to make it with are acquired and production continues in the coming weeks. Proceeds from the ACP agreement with Food City will be used to fund further research projects at the college and for student scholarships.
"The idea to do this came up about two weeks ago," Dean Susan Mayhew said in a prepared statement Tuesday. "It was a way we could help in the response to coronavirus by helping to supply a valuable product needed to meet Centers for Disease Control guidelines related to hand washing and sanitizing to curb the spread of the virus."
Mayhew said ACP President Mickey McGlothlin had made a trip to Food City to purchase hand sanitizer to have at a planned meeting at the college, but there was none to be found on the store shelves. She said McGlothlin stopped at several other stores on his way back to the college for the meeting, but was unable to find hand sanitizer.
"That spurred the thought for us about making it here on campus," Mayhew added.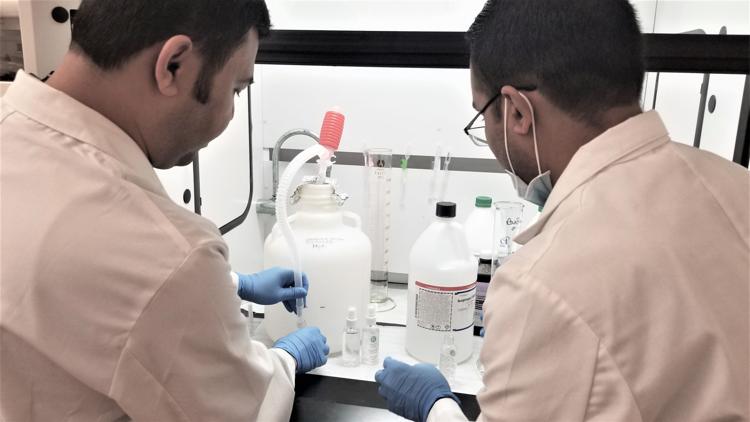 Because the college moved to its current online course delivery for students, the compounding lab was left with free time. Mayhew said it also left some of the other college's staff members with more time since they did not have students on campus with whom to interact. So a decision was made to convert a portion of the current lab use to the production of hand sanitizer.
"We reached out to Food City to see if they were interested in our product since they have been such great partners with us on other college projects," Mayhew said.
The college produced hand sanitizer is comprised primarily of 70 percent isopropyl alcohol and glycerin with a few other additives.
Food City President and CEO Steve Smith said when McGlothlin contacted him about the pharmacy school's ability to produce the hand sanitizer, he didn't hesitate to accept the offer.
"We told them we'll take all you can make," Smith added in the press release. "We've been out of hand sanitizer for days and have tried different avenues to get it without success. We received the first 50 bottles from ACP on Wednesday and they are selling well. As we receive more, we want to put it in all of our Food City pharmacy locations."