BLUEFIELD, Va. — While the ongoing pandemic may be keeping neighbors apart, it hasn't stopped creativity or communities from finding new ways to celebrate long-held Easter traditions.
In the quiet Deerfield Subdivision in Bluefield, Va., new decorations sprang up beside the spring blossoms in the past week: wooden Easter eggs.
Stephanie Goins, a resident of the neighborhood, orchestrated the hunt and the manufacturing of all the wooden eggs.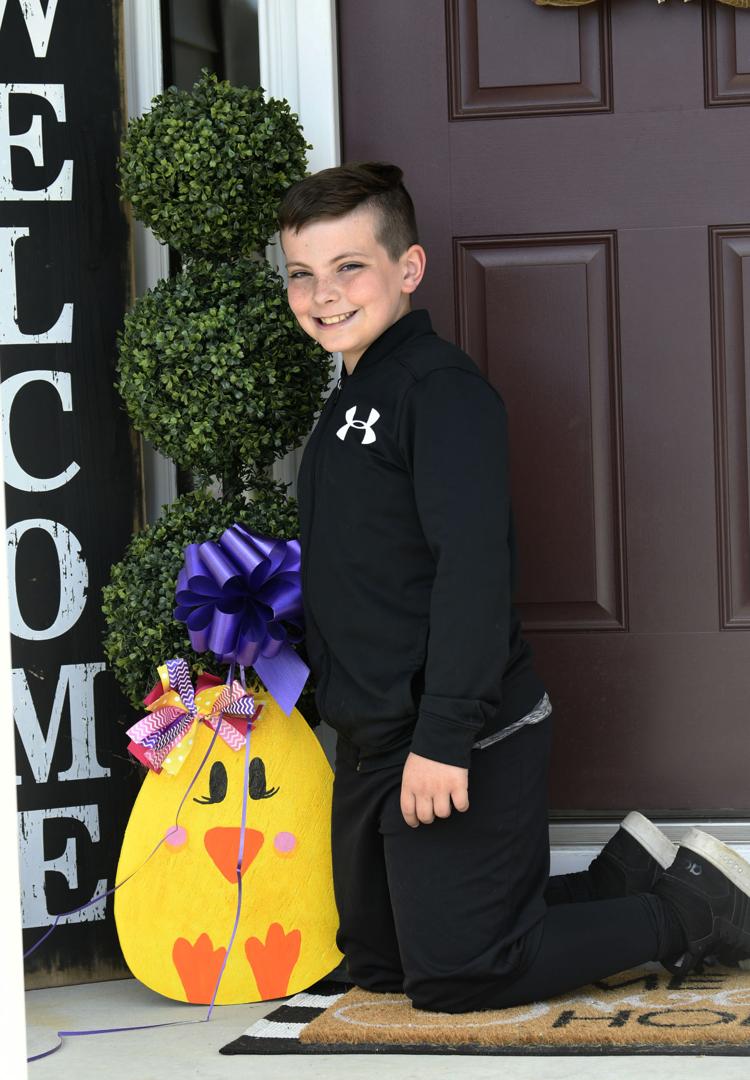 "She cut them out for everyone and made them," Jessica Steele, a resident of Deerfield, said of Goins' efforts to provide wooden egg cutouts for people to decorate.
Most homes in the community had painted eggs in their yards, on their porches or hanging on their doors. A leisurely cruise through the streets provided ample opportunity to search out each egg and take in the artistic designs on each one.
Geometric shapes, bright polka-dots, rabbits and flowers adorned the signs, as well as crosses and religious motifs celebrating the reason for the holiday.
Another Deerfield resident, Nikki Goodson, said it was "fun to see different people's takes on decorating the eggs."
"They've made sports eggs for their teams, traditional Easter eggs and ones to celebrate Jesus. It's fun to see different households' takes on them. There are so many artists in here," Goodson said.
Other Easter decorations were set out as well, but the painted eggs were the true stars of the show.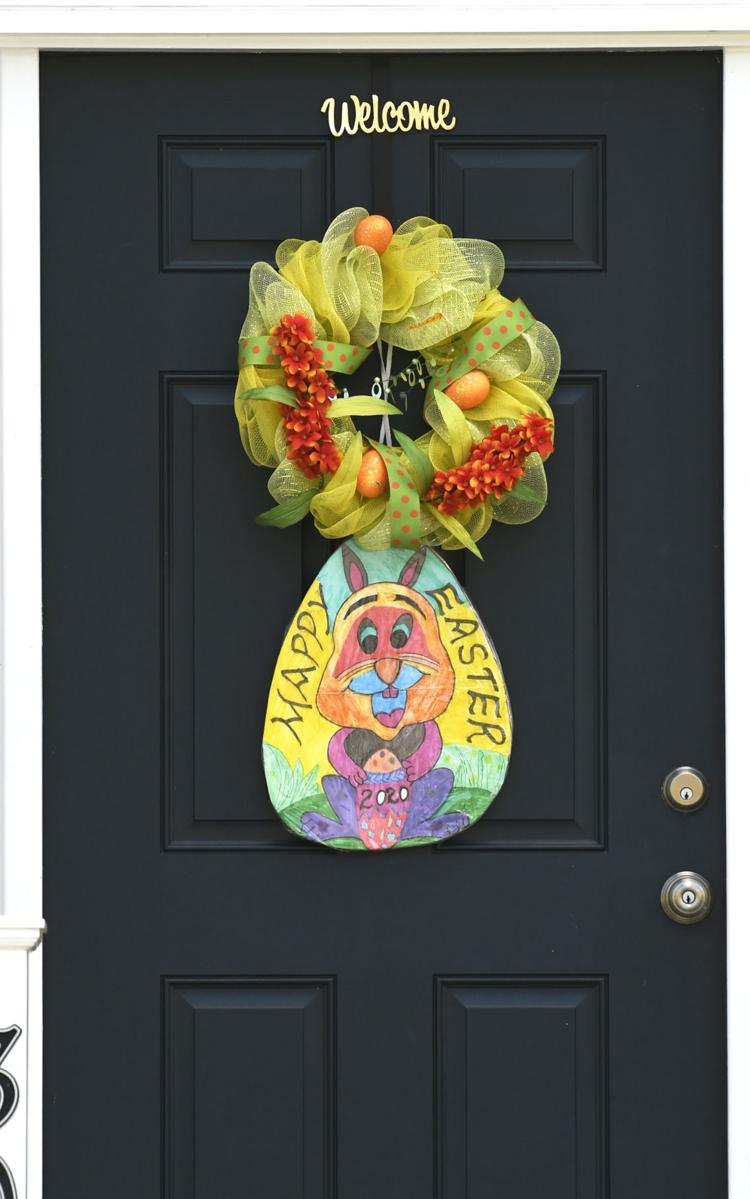 "I've seen a lot of vehicles driving around slow, up and down the streets, checking out the eggs," Goins said. "I'm hoping more will come out on Easter; hopefully parents will bring their kids out for some Easter joy."
Residents expressed satisfaction with how excited the kids in the community were to participate in both painting the eggs and in the daily plastic egg hunts. Each day, Deerfield residents hid plastic eggs with candy and one large money-filled egg for kids to find in yards around the subdivision.
"The kids really looked forward to it (the daily egg hunts)," Cathy Zimmerman, Deerfield resident, said.
Goins added that watching the kids hunt for the eggs made her "just as happy as they are."
"There's something for everybody to do and parents are getting so much joy from watching kids running around and searching for the eggs," Goins said.
Deerfield residents Greg and Trisha Holsinger both said that kids in the community loved searching for the money egg each day.
"It kept the kids busy and gave them something to do. We hid the big egg with money that the kids would hunt for," Greg Holsinger said.
"The kids will remember this for the rest of their lives," Trisha Holsinger added.
Nancy Walker said it was "nice to see kids out playing and they (the kids) all get along."
"(Deerfield) is a wonderful community for support and it's been uplifting overall," Walker said.
On top of the egg painting and daily hunts, Goins set up a contest to judge the best child and adult painted egg. Hunter Rose won the prize for best egg painted by a child.
Slideshow: Deerfield Easter egg hunt
The Deerfield Subdivision community in Bluefield, Va., came together to spread Easter joy to children and adults alike. Painted wooden Easter eggs and daily egg hunts brought families and neighbors together to celebrate tradition during the COVID-19 pandemic.
Carmen Bailey, winner of the best egg painted by an adult, said that she was "very shocked and excited" to have won.
"I love to do crafts and stuff like this," Bailey said. "The kids in so many neighborhoods have been so bored. The community has created so many activities for both the kids and the adults to take part in."
While parents and grandparents were happy to provide the community's children with a break from boredom, they were also happy to take part in the painting of the eggs themselves.
"The adults all painted from six feet apart," Trisha Holsinger said, noting that it was nice to spend time with neighbors in a safe way during a trying time.
"It got everyone out in the sunshine painting," Greg Holsinger said.
Walker added that it's been fun for the adults to create their own "personal eggs," highlighting that the activity brought families and neighbors together. "It's a good thing in a bad time," Walker added.
Most of all, Deerfield residents felt connected to each other by the activities.
"It really brought the neighborhood together," Zimmerman said.
Goodson noted that it was "a great way for the community to do something, together but separate."
"The ideas built upon each other and grew together," Goodson added.
"It's definitely a new tradition," Bailey said of the painted eggs and community egg hunts.
A common refrain from each resident was a deep appreciation for Goins' initiative and care for the activities. Neighbors said Goins did "a good job" with everything.
Goins expressed gratitude for her community and her neighbors as well.
"We've been here three years and I have an only child, and living here has been a pure blessing," Goins said.
Goins said a special thanks to everyone involved in the project, whether they were painting, hiding eggs or donating their time and resources.
"I would like to thank all of our wonderful neighbors for their generous donations to help make this so special for the kids," Goins said.
The painted eggs will still be up on Easter Sunday for anyone that wants to take a drive through and see how many they can find.
— Contact Kilie Pauley at kmullins@bdtonline.com