PRINCETON — A local World War II veteran who spent most of a century serving his country, county and community passed away Saturday as he approached the age of 104.
Jake Hatcher, 103, of Princeton passed away Saturday. Many residents saw him when he would put on his Uncle Sam suit and walk with Princeton's annual Veterans Day parade, passing out candy and posing for pictures with the onlookers.
A native of Princeton, Hatcher was born on Aug. 10, 1917. In 1941, he joined the U.S. Navy for the same reason many young men joined the service – he wanted to travel and see the world.
Hatcher said during a previous interview with the Bluefield Daily Telegraph that a history teacher inspired him to travel.
"I saw it, but it was over a gun barrel," he said then with a laugh.
The Navy sent him to torpedo school at Rhode Island. After graduating, he was assigned to the ship U.S.S. Ellison and participated in Atlantic convoys to help guard against German submarines, known then as U-boats. He was later transferred to the South Pacific where he served on destroyers that bombarded Iwo Jima and other islands held by the Japanese. Combat took him as far as the Aleutian Islands near Alaska; islands there were the only United States territory held by Japan during the war.
On April 10, 1945 – the same day President Franklin Delano Roosevelt died – a Japanese airplane filled with explosives, better known as a kamikaze, crashed into the forward section of his ship while it was near the island of Okinawa. Hatcher, then the ship's chief torpedo man, was in the after part of the ship.
Hatcher stayed in the Navy after World War II ended, and later served in the Korean War. He was a commander aboard the U.S.S. Orleck when the ship bombarded the North Korean coast on July 14 and 15, 1952, and destroyed an enemy supply train.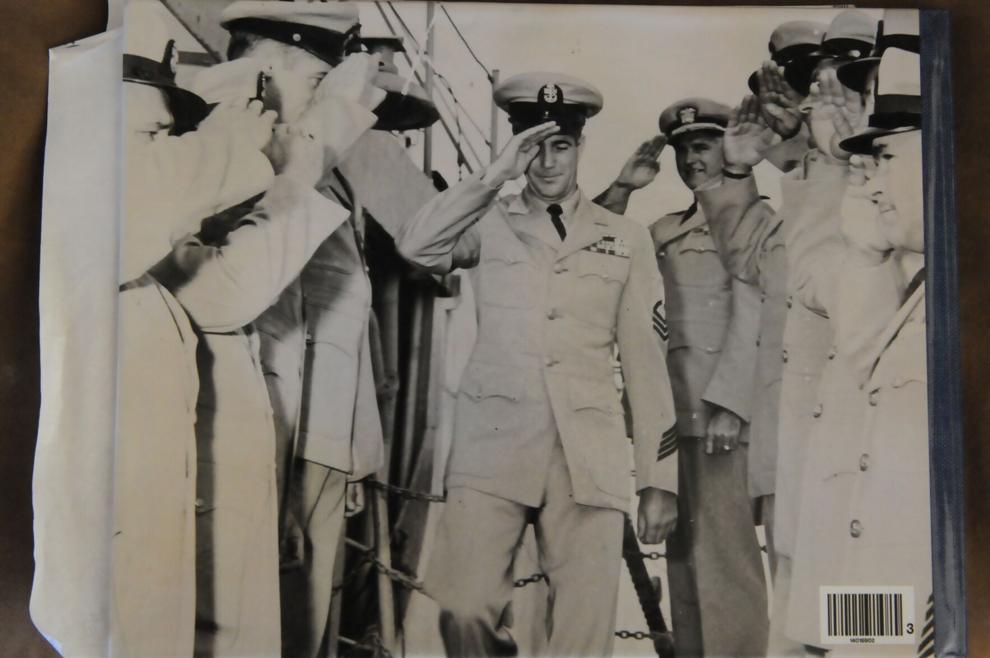 After leaving the Navy, Hatcher was Mercer County's director of welfare services for two years and later sold real estate. He served on the local Salvation Army's board of directors for more than 20 years. He was also known for painting decorative rocks and seashells that he would either give away or sell to benefit the Salvation Army.
County Commissioner Bill Archer remembered when he met Jake Hatcher in 1989. Archer had just performed a concert with his friend, Karl Miller, at what was to become Dick Copeland Square on Mercer Street.
"He came up to me and gave me a painted stone, and that was the first of many," Archer recalled. "He would do that to recognize you for doing something."
"It was just an honor to call him my friend," Archer added. "I was deeply honored to know him. Even as he got on in years, he always had a positive outlook on life."
Hatcher would speak about his Navy career when asked, but it was not the only thing that defined his life.
"I think his life was on doing service to his country, state and community," Archer said.
Tony Whitlow of the Those Who Served War Museum in Princeton said that when Hatcher met a person, "he never forgot you."
"He was an amazing man," Whitlow stated. "I came remember him when we had our Veterans Day parades. He would walk through town up to the museum even after he turned 100, I think. He was a man among men and he was of the greatest generation. He was a person who was a real model for everyone. He was just an amazing and remarkable man. He really was."
Lois Miller, president of the Mercer County Historical Society, remembered how Hatcher helped her organization by sharing his knowledge of and enthusiasm for local history.
"He was the most likable person you could run across," she recalled. "He was even tempered. He would come to our meetings to give us pep talks and encourage us to do what we can to preserve the history of our county. He was just all all-around go getter. He liked to go to functions, the commission on aging, and he was a big supporter of the Salvation Army."
Hatcher also loved getting the historical society's monthly newsletter. Miller said she would take him a copy.
"He looked forward to that," she said. "He would say, 'I'm going to read that right now.'"
In 2018, Hatcher was recognized by the Chamber of Commerce of the Two Virginias as Mercer County's Citizen of the Year. Even a Bobblehead of Hatcher wearing his well-known Uncle Sam suit has become a coveted collectible. 
His granddaughter, Joni Farley of Charlotte, said that he gave his family some instructions before he passed away.
"Grandpa didn't want us to have a funeral for him, which surprised us all, because he loved people so much," she said. "He sent us all a letter, years ago with these instructions: 'I want only to be remembered for my past long life, which has been happy and I have enjoyed. What I have done for others has been most satisfying. I want to be remembered living, not dead. I love you all and may God bless you.'"
"As my brother, Justin Harvey and I held Grandpa's hands at the hospital Friday and Saturday, he said, 'I love you both. You have always felt more like my kids, than my grandkids. I have lived a long happy life, but it's time for me to go now. You have to let me go,'" she recalled.
"We told him that it was OK for him to go and that we would be OK because he had taught us so well. We asked him to tell Grandma hello for us and tell her that we love her. He said that he would. We got to tell him that he was a good husband, father, grandfather and friend. He said, 'I hope so.' We told him how proud we were of him and everything he has done for others. He looked at us and smiled. We told him that he would be with Jesus soon. He said, 'that's right.'"
"His passing leaves a giant sized hole in the hearts of all who knew and loved him. He made everyone feel so special," Farley said. "I think the best description of Jake Hatcher can be found in the Alabama song, 'Angels Among Us': 'I believe there are angels among us, to show us how to live, to teach us how to give, to guide us with the light of love.'"
— Contact Greg Jordan at gjordan@bdtonline.com