BRAMWELL — Local  residents and visitors alike are finding a taste of Mexico in Appalachia as a new restaurant in a Mercer County town serves fresh cuisine and continues to take shape.
Casa Familia in downtown Bramwell started out by cooking and selling food like street tacos and quesadillas on Main Street, said Amanda Brinkley, who owns the restaurant with co-owner Chepe Pons. 
"We opened at the end of October (2020), and we were on the street for a really long time cooking," she recalled. "And then we just recently moved inside the building."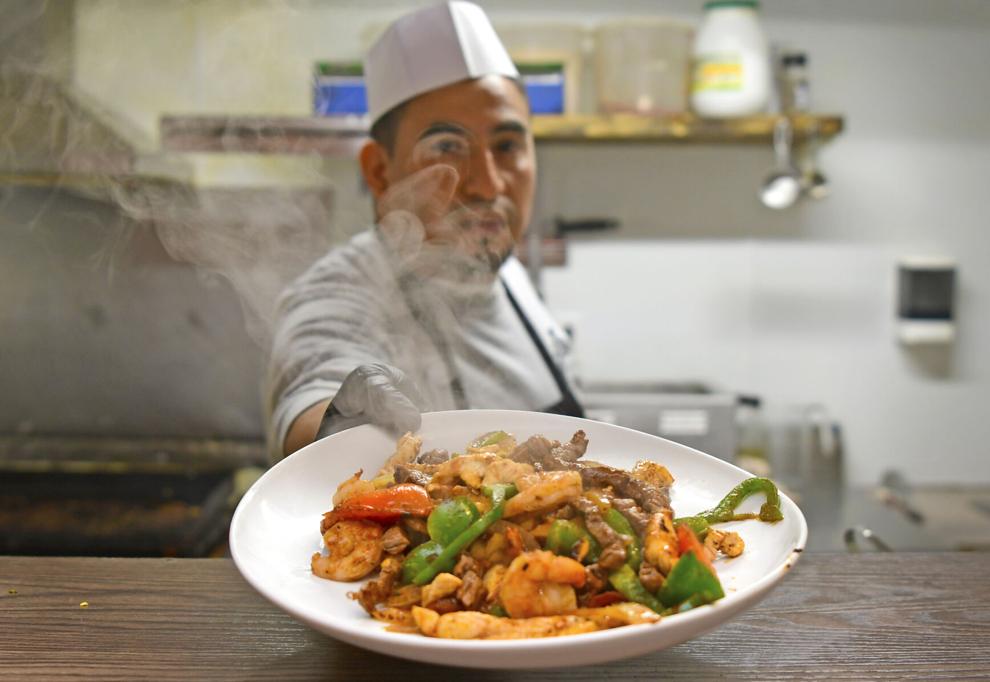 Brinkley sat down in one of the booths to talk while Pons was in the kitchen getting ready to open. The interior preserves the downtown building's high ceiling and brick walls, and there was evidence of renovations underway in the back. The restaurant is now open and serving customers, and even more of it is taking shape.
"We've always wanted to open a restaurant," she said. "It was after like COVID had started that we really had more time on our hands to actually figure out what we wanted to do."
One goal was to offer diners real Mexican food.
"It's authentic. He is actually from Mexico. I'm from Bramwell," Brinkley said. "I moved here in 2000. This is my parents' building actually, so if it wasn't for them we wouldn't even be able to get started.
"So we have fajitas, just like traditional Mexican food. We have fajita quesadillas. We do street tacos. We are actually doing carnitas (Mexican pork) this weekend. Then we also specialize in cheesecake," she added. "We started doing different series of desserts and the cheesecake really stuck, so every week we have two different cheesecakes, and we never do the same one."
Casa Familia has been welcomed by the community ever since it opened. Local people and ATV tourists have been supportive.
"It's been really good ever since we moved inside," Brinkley said of the restaurant's reception. "The locals have really been supporting us. It's been phenomenal. We do have trail people, but it's been mainly local people who support us. They come from Princeton, Bluefield, Bluewell. It's been really nice, the support that we've had from all the locals."
People from New York, Florida, North Carolina, neighboring Virginia and other states have visited the restaurant, too, she added. Having a menu featuring actual Mexican food helps bring people in.
"All of our stuff is really authentic. It's all authentic. It's all fresh," Brinkley said. "We make everything fresh to order. We don't have anything that's pre-made. We make everything fresh every morning."
The building which Brinkley's parents, Larry and Molly Robinette, provided was once a trophy shop. Work now underway will expand the restaurant's interior, adding to outdoor dining and take out. 
"Eventually, we're going to open completely and we're going to have a bar and we hope within six months we will be fully open," she said. "So we are building the kitchen right now. This is just a temporary kitchen."
The kitchen will be moved to the back of the building, and the bar will be added along with a full menu, she said. Only Pons and Brinkley operate Casa Familia now, but plans include adding a bartender, wait staff and other employees.
"We are local to the area and we really want our locals. I feel that we are a clean, authentic restaurant and think it will really have a great impact to Bramwell and to the area because there's not a lot of places in this area to go and sit down and eat," Brinkley said. "I think it will bring a lot of business to Bramwell and McDowell where there are the ATVs. I think it will help everyone in the long run."
Mayor Louise Stoker said Bramwell has seen a lot of success with new businesses coming into town. 
"There will be more this spring," she said. "There will be another restaurant three doors down, and they will do breakfast and lunch; so that will give us a lot of different food services on Main Street."
Casa Familia is open Thursday, Friday and Saturday from 11:30 a.m. to 10 p.m. and on Sunday from 11:30 a.m. to 8 p.m.
Contact Greg Jordan at gjordan@bdtonline.com