Slideshow: Princeton Rays Vs. Danville Braves
Staff photo by Eric DiNovo
The Danville Braves take on the Princeton Rays at Hunnicutt Field in Princeton Friday. A grand slam home run by Angelo Armenta and home run by Brett Wirely in the bottom of the second gave the Rays enough of an edge to win the game 5-4. The Rays and the Braves are back in action at Hunnicutt Saturday evening at 6:30 PM.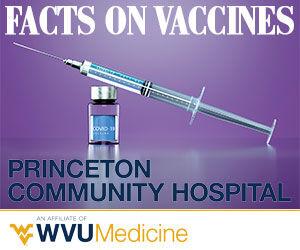 3 p.m., at the George W. Seaver Chapel of Seaver Funeral Home in Princeton. Burial will follow at Elgood Cemetery.
4 p.m., memorial service at Cravens-Shires Funeral Home in Bluewell.
11 a.m., at the Bluewell United Methodist Church. Interment will follow at Woodlawn Memorial Park.